Cooking with your kids can be fun with recipes inspired by your favorite characters. Especially if they are dessert recipes! In honor of Princess Month, which started on Disney Channel, we invite you to make three sweet treats inspired by popular cartoons.
"Pearl" cookies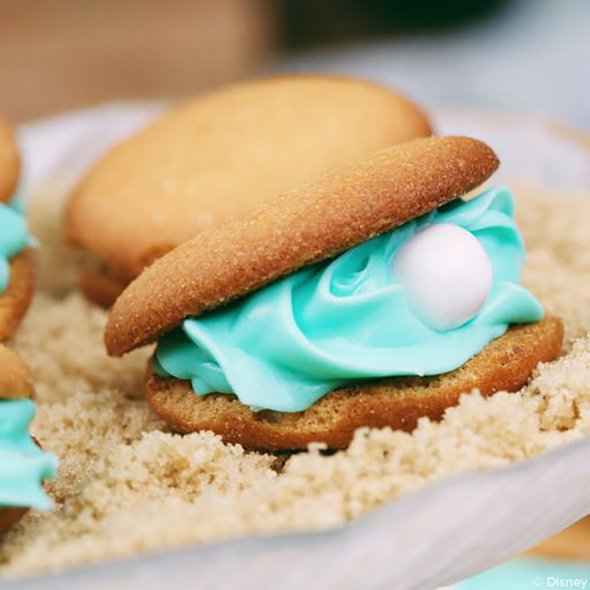 Which dessert do you think the little mermaid Ariel would like? It seems to us that the princess would definitely not resist the calf cookies! We offer to make a delicious treat that will become a real jewel of your culinary collection. By the way, all three cartoons about Ariel can be seen on the Disney Channel on March 25 at 5:40 p.m.
You need:
For curd cream:
Vanilla sugar – ½ tsp
Salt – 300 g
Cyan or blue food coloring
Sugar – 100 g
Butter – 150 g
For cookies:
Egg – 1 pc.
Sugar – 100 g
Pea – 350 g
Butter – 200 g
Baking powder – ½ tsp
Sugar – 100 g
Salt – to taste
For decoration:
White candy dragees – 1 pack.
Cooking:
Beat butter, egg whites, sugar, baking powder and salt.
Add flour, knead the dough and leave in the fridge for half an hour.
Roll out the chilled dough and cut out oval shapes of the same size.
Put the pieces of dough on a baking sheet and bake in an oven at 180 ° C for 12-15 minutes.
Prepare the whipped cream: beat all the ingredients until a homogeneous airy mass is obtained.
Divide the finished cookies into two parts. Spread the first one with cream with a pastry bag. Put the remaining cookies on top of the cream and press a little on one side to make a shell.
Decorate the shell with an edible dragee pearl.
Chocolate Bear Paws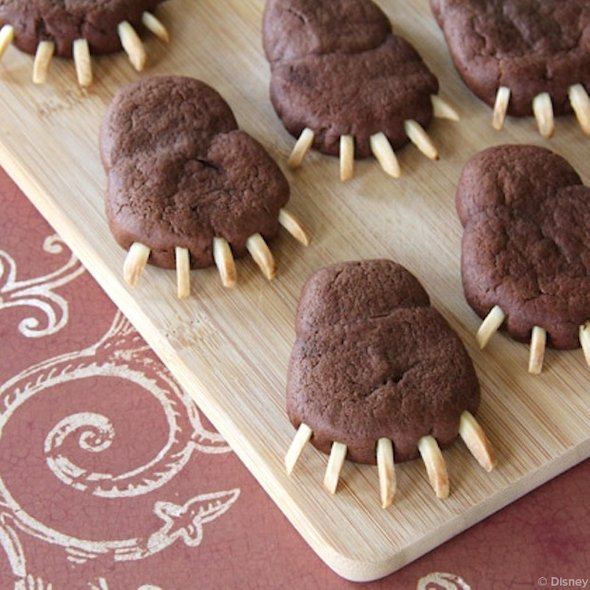 Remember who changed Merida's brothers and mother in the cartoon "Brave"? That's right – bears. Chocolate cookies in the shape of the paws of these predators can be baked before watching the cartoon "Brave". Don't miss it on March 13 in Big Animation at 19:30 on Disney Channel!
You need:
Eggs – 3 pcs.
Almond slices or almond flakes
Pea – 250 g
Butter (soft) – 110 g
Chocolate bar – 1 pc.
Salt – ½ tsp
Vanilla extract – 2 tsp
Sugar – 1.5 cups
Baking powder – 2 tsp
Cooking:
Melt butter and chocolate.
Beat sugar with eggs until fluffy, add vanilla extract and mix with chocolate mixture.
Beat flour, baking powder and salt. Beat in the chocolate mixture until smooth and put in the fridge for 3-4 hours.
Roll dough balls in your hands. For one cookie you will need 2 balls – one smaller (for the heel), the other bigger (for the main part). Press the balls together, flatten them slightly with your fingers and place on a baking sheet.
To make claws, add almond pieces to the front of the paws.
Bake for 8-10 minutes in a preheated oven at 180°C.
3. Buttercream cupcakes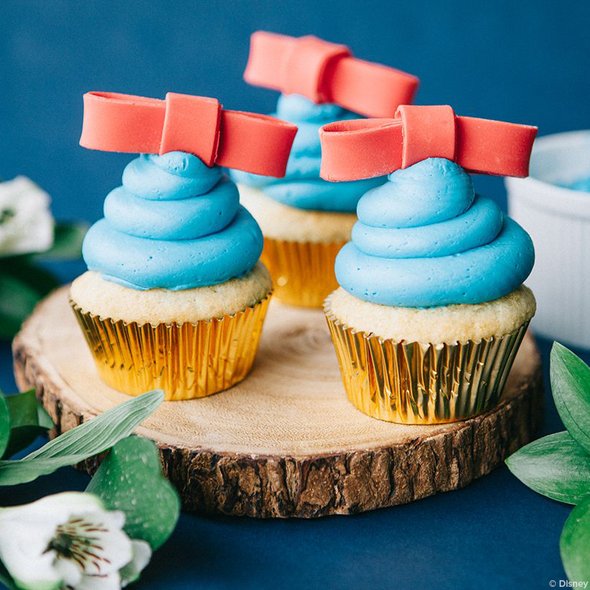 Magic cupcakes inspired by the Cinderella cartoon are a good reason to gather the whole family in the kitchen! By the way, the trilogy of cartoons about the princess who lost her shoe awaits the audience on March 18 at 17:55 on the Disney Channel.
You need:
Powdered sugar – 500 g
Butter – 400 g
Egg – 2 pcs.
Cream – 100 ml
Honey – 50 g
Water – 50 ml
Pink and blue liquid food coloring
Sugar – 350 g
Citric acid – 2 g
Pea – 150 g
Baking forms
Vanilla sugar – 1 tsp
Soda – 1 tsp
Milk – 200 ml
A pinch of salt
Gelatin – 10 g
Cooking:
Preheat oven to 190°C.
In a deep bowl mix soda, 200 g butter, salt, 150 g sugar, 100 g flour.
In another bowl, whisk cream, honey, eggs and vanilla sugar.
Mix all ingredients together.
Pour the prepared mixture into molds.
Bake the dessert in the oven for 20 minutes.
In a deep bowl, with a mixer, beat 200 g of sugar, 200 g of butter, 200 ml of milk and 50 g of flour.
Add a few drops of blue coloring to the resulting butter, mix well.
In a deep bowl, mix gelatin and water, let the mixture brew for 40 minutes.
Add powdered sugar, citric acid and a few drops of pink dye, mix thoroughly.
Roll out the mastic with a rolling pin in a thin layer 5 mm thick.
Cut strips of mastic 10 cm long and 1 cm wide with a knife.
Make a bow from each strip.
Decorate the finished cupcakes with buttercream and buttercream bows.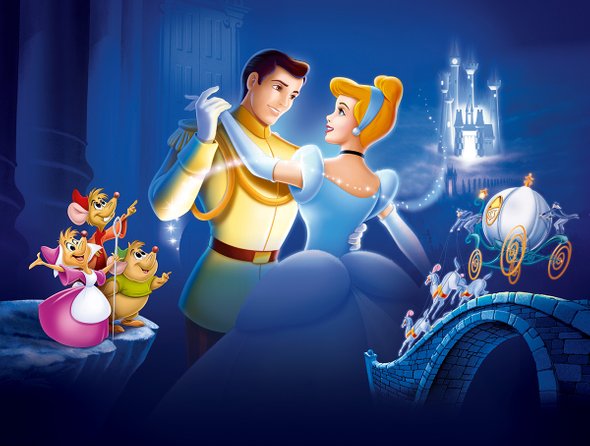 Cover photo: Evgeny Atamanenko/ shutterstock