We continue to share recipes from Klops readers. The following six desserts will brighten up a Friday evening or a night out.
1. Smoothie bowl with avocado and kiwi, recipe sent by Oksana Shevchuk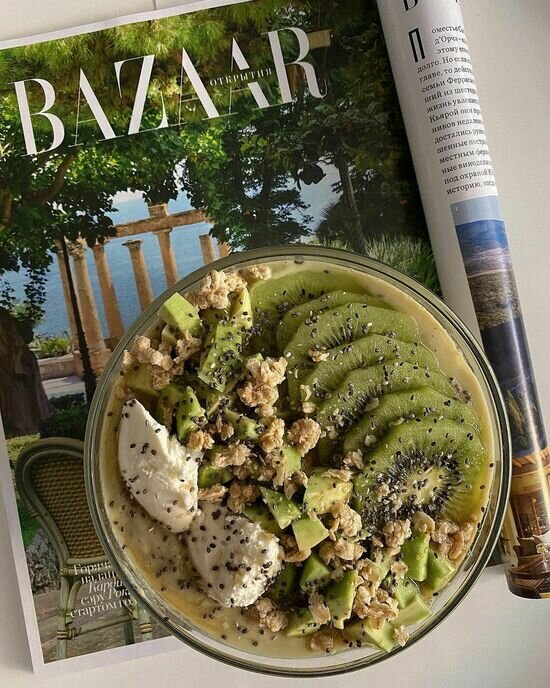 What do you need?
two kiwis,
one avocado,
one banana,
a glass of Greek yogurt
two tablespoons of cottage cheese,
5-6 drops of lemon juice
chia seeds, maple syrup to taste,
crumbled yeast dough braid (you can also use muesli) for decoration.
How do we cook?
Wash fruit, remove skins. Coarsely chop a banana and one kiwi, put the pieces in the freezer for several hours. After punching them together with Greek yogurt in a blender until smooth.
Cut the second kiwi into slices, avocado into slices. We move the smoothie bowl into a deep bowl, decorate with rows of chopped ingredients. Add cream cheese, sprinkle with crunch pieces and chia seeds. Before serving, sprinkle with maple syrup and lightly with lemon juice.
2. Cottage cheese pie with peaches, recipe sent by Maria Belyakova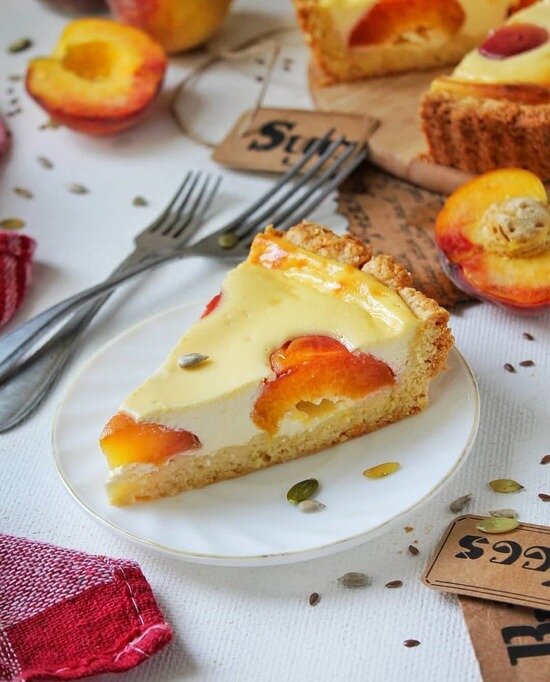 What do you need?
200-250 grams of wheat flour,
75 grams of butter,
130 grams of sugar
a teaspoon of baking powder
three chicken eggs
300 grams of cottage cheese,
120 grams of sugar,
25 grams of cornstarch,
salt, vanilla to taste,
4 pecks.
How do we cook?
Grind cold butter with flour with your hands into small crumbs. Add 50 grams of sugar, salt, baking powder, one egg and yolk, quickly knead a homogeneous shortbread dough and immediately roll it into a layer.
We spread the tea in a form with a diameter of 23-24 centimeters, make sides 3-4 centimeters high. We remove the workpiece for 20 minutes in the refrigerator.
For the filling, we break through the chicken egg, protein, cottage cheese, sugar, starch, the remaining sugar and vanillin until smooth. Pour the filling into a cooled form, drown the spicy peaches in half, send the cake to bake at 170 ° for about 40-50 minutes.
How to determine readiness? The stuffing will seize and become denser. Let the finished cake cool completely, then send it to the refrigerator for a few hours or overnight – this way it will be even tastier.
3. Panna cotta cake with raspberries, recipe sent by Maria Belyakova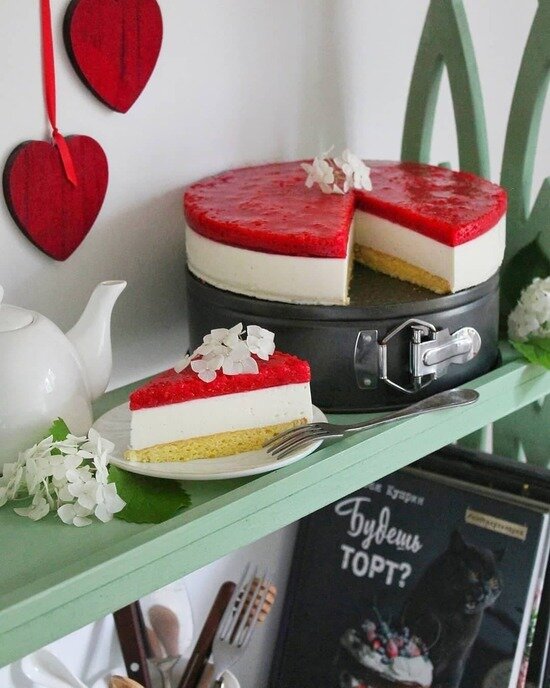 What do you need?
two chicken eggs
190 grams of sugar
60 grams of wheat flour,
vanillin to taste
a pinch of salt,
360 grams of cream cheese (also suitable cottage cheese),
120 milliliters of milk,
20 grams of gelatin,
100 milliliters of water
200 milliliters of cream with a fat content of 33-35%,
150 grams of raspberries (frozen is also suitable),
45 grams of raspberry jelly.
How do we cook?
For a biscuit, beat the eggs with vanilla, salt and sugar (60 grams) with a mixer – we determine the readiness by the lush light mass. Sift the flour, mix gently with a spatula in one direction. Put the dough in a parchment-lined form. We send the base to the oven preheated to 170-180 ° for about 7-10 minutes, and then let it cool completely.
Gelatin is poured with water and left for 10 minutes, then gently heated in the microwave – it should not boil. Mix cream cheese and milk in a blender until smooth. In parallel, pour the prepared gelatin into the mass, continue to punch.
Beat the cream with the remaining sugar and vanilla until stiff peaks, with a spatula, mix the resulting mass with the cream cheese until smooth. Pour everything into a mold on a cooled biscuit, put it in the fridge until completely solid.
Prepare jellies according to package directions. Water can be taken half as much, because we will use berries. Pour raspberry jelly, punch with a blender until smooth – add sugar if you want. We cover the cheese mousse with berry jelly, put everything in the fridge for 3-4 hours.
4. Cake "Milk Girl", recipe sent by Anna Veselova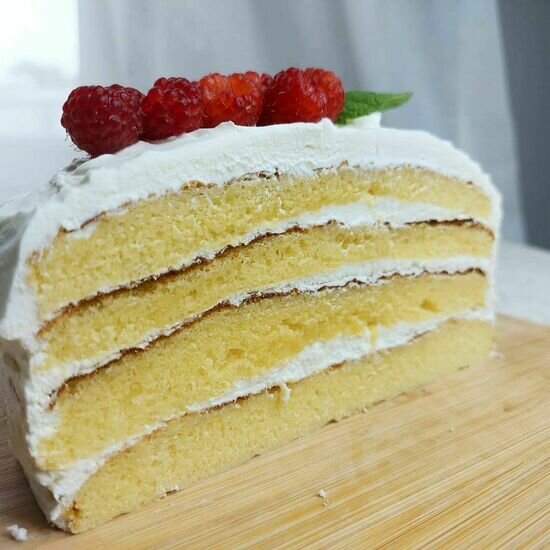 What do you need?
400 grams of condensed milk,
4 chicken eggs,
200 grams of wheat flour,
10 grams of baking powder
400 milliliters of cream with a fat content of 35%,
half a glass of powdered sugar.
How do we cook?
Put the condensed milk and sugar in a bowl, mix with a whisk until smooth. Sift flour and baking powder into them, mix thoroughly. Let the mass brew for 15 minutes – so that the dough is more beautiful.
On baking paper draw a circle with a diameter of 18 centimeters, move the sheet to a baking sheet. Pour three full tablespoons of dough into the center of the circle – spread it through the shape. We send the base to bake for 5 minutes in a preheated to 180 ° oven. Readiness is determined by a slight blush.
Remove the paper from the cake and place it on a kitchen towel. Bake the rest of the dough in the same way. Beat the cream with powdered sugar, cover the cakes with cream. If you want to decorate with berries, remove the cake to soak overnight in the refrigerator.
5. Cottage cheese casserole, recipe sent by Alexandra Korneva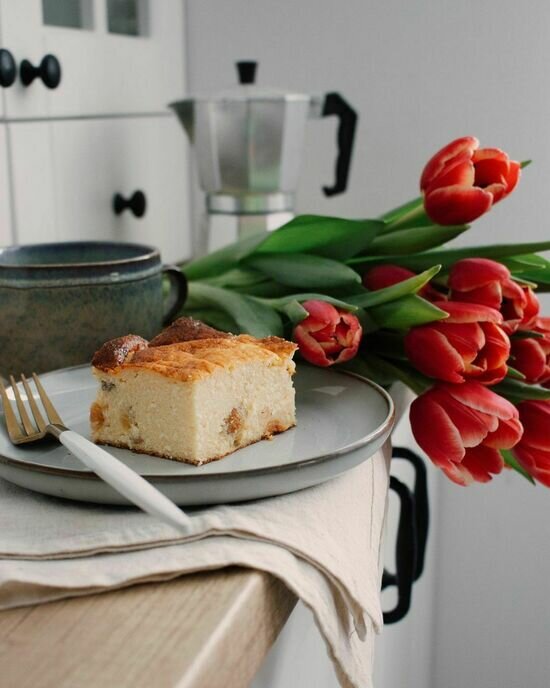 What do you need?
3 chicken eggs,
500 grams of cottage cheese,
5 tablespoons of semolina,
200 ml plant-based oat milk (regular milk will also work)
sugar optional (can be replaced with honey)
a handful of raisins.
How do we cook?
Peel the whites from the yolks. Mix the latter in a separate bowl with cottage cheese. Pour warm milk into a glass, add semolina and mix. After the mixture is combined with the curd mass.
Separately, beat the egg white until foamy, move it with a spatula to the rest of the mixture, add the raisins and mix everything well. Grease the baking dish, pour the casserole on it. We send everything for 50-60 minutes in an oven preheated to 180 °.
6. Cinnamon buns, recipe sent by Lilya Forever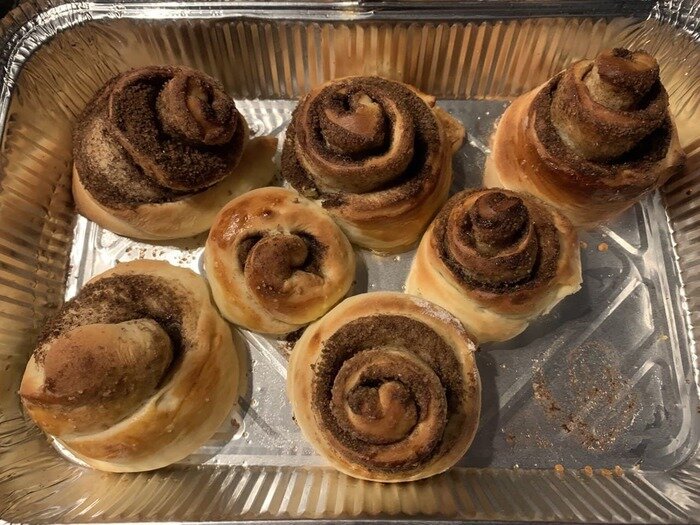 What do you need?
250 milliliters of milk,
dry yeast packaging
90 grams of sugar
50 grams of margarine,
a tablespoon of vegetable oil
a pinch of salt,
two chicken eggs
600 grams of wheat flour,
vanilla, cinnamon to taste.
How do we cook?
We heat the milk, combine in a deep bowl with yeast and sugar. Stir and let the mass brew for about five minutes. After adding a spoonful of vegetable oil, margarine, salt and vanillin. While kneading, we introduce flour in parts – the dough should be loose and stick a little to your hands. We send the blank for an hour to a warm place.
Roll out the dough, grease with vegetables or butter, sprinkle with cinnamon and sugar to taste. We roll everything into rolls, cut into parts and put on a baking sheet. To make the snails "past", let them stand warm on a baking sheet for 20 minutes. Grease the tops with yolk, then send everything to the oven preheated to 170 ° – we determine the readiness by the blush.