The harvest of apples at dachas near Moscow turned out to be rich this year. What to cook from this fragrant wealth? Chef Tatyana Ivanenko told about this "Vecherka".
Apples have such an impressive list of useful properties that, of course, throw them in the forest or compost, as some do, is just a sin. I understand that there are not enough hands for everything, but maybe there was no need to be greedy when planting trees? If you have collected carrion with damaged barrels, remember that this is an excellent material for drying: you need to cut healthy slices of apples and dry them in an ajar oven or electric dryer. In winter, dried apples can not only be sent to compote, but also brew tea with them, and also just eat as a snack – very tasty and healthy.
Jam, jams, marshmallows, mixed jams and compotes – now the owners of apple orchards have a big headache. But what sweet choices! By the way, undamaged pieces of apples cut from the bait can also be sent to a juicer or juicer. An interesting jam is obtained from a mixture of apples with other fruits and berries – autumn cranberries, chokeberries, late pears and plums, cooked lemons and oranges. Apple juice tends to be concentrated and needs to be diluted.
Chinese small-fruited: for jam
Beautiful apples are ideal for jam. Just to make sure that everything works as it should, be patient: apples should be boiled in 10-15 doses in syrup, let it boil and remove from heat. Then they will be transparent in the jam. If you want to, you can add cinnamon, lemon, and some want to add vanilla to the jam.
Soaked apples (the easiest way)
For 1 kg of apples take 4 carrots, 2 kg of white cabbage, 2 tablespoons of sugar, 2 tablespoons of salt. We chop the cabbage as for pickling, rub the roots with long strokes, as for Korean roots. Mix carrots and cabbage, add salt and sugar, put the mixture in a prepared container, put a layer of apples on top, then a layer of cabbage – and so on to the top of the container. The cabbage must be on top. We cover with a plate, load, warm for a week, and then remove the load and put the cabbage and apples in a cool place or refrigerator.
Bogatyr: for charlotte
Golden apples with a red barrel have an excellent taste and add a special piquancy to baking and pies. Well preserved, little sick.
Glory to the winners: for juices
Shiny, bright, cheerful apples are ideal for juice. Drink it fresh, and you can roll it up for the winter like this: squeeze the juice through an electric juicer, let it simmer, remove the foam (it will be very dense), strain the juice through a sieve, boil it, add a little sugar, pour it into sterile jars and cork. If you ​​get juice through a juicer, boiling is not necessary, just pour it into glasses or bottles and cork. Keep pots and other containers upside down after spilling!
Nedzwiecki's apple tree: for beauty
Yes, this is also an apple tree, and there will be fruits on it, but you should not process them – they are just for beauty! On this small tree you will be amazed by dark purple leaves and flowers of great beauty, decorative and almost purple small apples. The French say that this is the most beautiful ornamental plant in Russia. At the same time, apples ripen on the very tasty!
Baked apples: for dessert
For this dessert dish suitable apples of any variety, but it is best, of course, to take Antonovka. Preparing apples is simple: cut the fruit on top, remove the seeds with a spoon, keep the apples whole, put them tightly in a fireproof form, pour honey instead of seeds and cook until soft!
Idared: for storage
Incredibly beautiful apples, green with a red blush, conical in shape, up to 200 g in weight. Very dense and juicy, apples of this variety have a sweet and sour taste and are perfectly preserved until the middle of spring. They are carefully removed from the branches and placed on straw or sawdust next to each other, or even wrapped in paper. Good for storage and Belarusian synapse, and Lobo, and Antey.
Autumn striped (Streifling): for compotes
Green with a pink sheen, shiny and juicy apples. They are great for compotes and drying. The beauty of the compote will give the addition of chokeberry.
Bellefleur-Chinese: for drying
Very nice apples of delicate color, because the variety can withstand, they look great even in failed years. A great option for juice, puree, preparations for pies and mixed jams (with pumpkin, zucchini, late raspberries).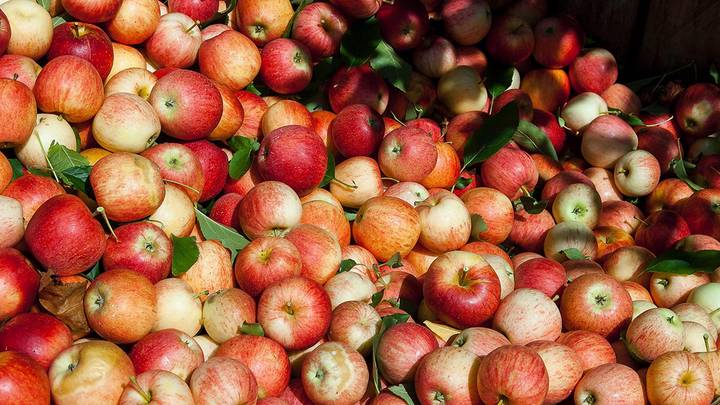 Lobo: for puree
A strange winter variety, fruitful, rarely misses a year without surprising the owners with its generosity. Stored, striking in beauty – deep red apples look like bright lanterns! Lobo puree turns out to be very tasty: apples are boiled, and together with skins and a relatively small amount of sugar, then pureed with a blender and rolled hot under the lids.
Antonovka: for spiders with slices
Variety of old selection, with a wonderful aroma. Stored until mid-December. The pulp is juicy, dense, but gradually loosens during storage. It is well wet and cut: apples are cut into 4-6 pieces, the seeds are removed and covered with a little sugar, when they leave the juice, put on fire, everything is passed through boiling juice and in sterile jars under screw set or sunset lids. It makes a great dessert.
Christmas: for marshmallows
Very large apples, from 250 to – attention! – 450 grams, can hang on branches until frost. The well-known variety Wellsey participated in their breeding. Good for storage, and for eating, and for drying, and, of course, for jams. An excellent marshmallow comes from apples: after getting puree of boiled apples, lay it in a thin layer on parchment and dry it in the oven for several hours, then cut it into strips, remove it from paper and roll it into rolls. You must store marshmallow in a dry place, close the box or jar with a lid.
Welsey: for jam
A nice grateful apple. The distinctive feature is that the fruits rarely drop by themselves, usually they wait patiently for the owner to take them off, and they can wait until the cold weather. A great option for jam, drying, compotes and storage!
OF ALL PROBLEMS
It is known that an apple is a healthy fruit. Indeed, this is a real doctor: eating apples helps to strengthen the cardiovascular system and prevent diseases of the heart, gallbladder, eyes and significantly lower cholesterol levels. Believe it or not, those whose diet includes apples all the time have no problems with visual acuity, and liver cells regenerate faster.
DIRECT SPEECH
Mikhail Krasnov, biologist:
– Apple trees are the kings of our gardens. The variety of varieties is amazing, and although the old varieties have already been lost, new ones are emerging – resistant to diseases, not as capricious as before. For those who are just thinking about setting up a garden, I would advise you to choose varieties of dwarf or semi-dwarf rootstocks – they are not so tall, it is more convenient to follow them. And, of course, you should plant apple trees of different ripening periods.