Finally this season mushrooms started to appear in the Latvian forests. But after collecting and cleaning the mushrooms, the fun begins, and here you can't do without mushroom sauce. We want to offer you 13 recipes for every taste.
The continuation of the article is under advertising
Advertising
As you know, some mushrooms can be fried immediately, but some still need to be boiled before frying.
Well, the size of the mushrooms after cutting depends on the taste. Some experts believe that the taste of mushrooms is revealed only when the mushrooms are cut into large pieces, others prefer to chop finely, and it also happens that mushrooms are crushed in a meat grinder before making the sauce.
The aroma of mushrooms will open when you fry them in butter. Now, so that the milk fat does not burn quickly and no black residue appears, part of the butter is replaced with olive oil. To make the sauce even more aromatic, first fry the chopped onion, garlic or leek in fat, add the bay leaf, and only then can you put the mushrooms and fry them.
If potatoes or pasta are cooked nearby, a scoop of water from these products will be an excellent sauce thickener and you can do without adding flour.
You can add a piece of smoked meat to the mushroom sauce, which will add new notes to the taste. After roasting the mushrooms, you can add not only sugar or cream, but also grated or processed cheese. Mozzarella is perfectly suited to mushroom sauce, which must be cut into small pieces before adding, feta cheese and goat cheese will go here, but in this case do not add salt to the sauce, because the cheese is very salty. And for those who count calories, you can add yogurt without additives instead of cream, but in this case the sauce can be heated until the first bubble.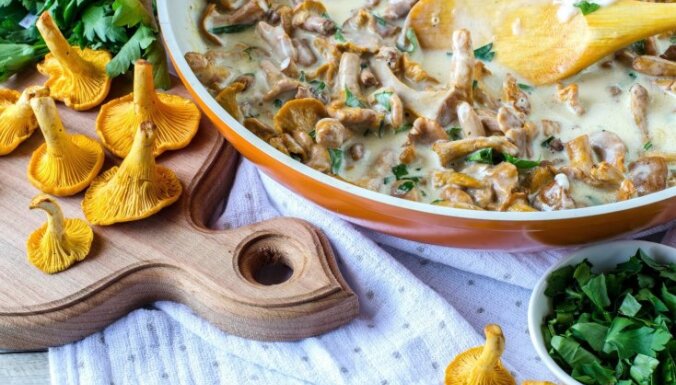 At the end, add lemon juice or lemon juice. Mushrooms in contrast with acid will open even more. The taste will be richer if you add a little dry white wine.
Add greens to the sauce only when it has already been removed from the stove, then it will not lose color and smell. In Latvian cuisine, it is customary to flavor the sauce with a lot of dill, but do not skimp on other greens, such as celery, parsley, basil. The forest taste of mushrooms is emphasized by a sprig of thyme, finely chopped rosemary or juniper.
Gourmets can use mushroom sauce not only as a main dish, but also to complement zucchini boats that are relevant in autumn or chicken fillet fried until golden brown.
Enjoy your meal!