Pan-Asian cuisine has firmly penetrated our menu, but you are unlikely to find anything more exotic than sushi sticks in the kitchen arsenal of a modern housewife. And when you find it, it's a wok that unfortunately collects dust on the far shelf. A similar fate usually falls on this particular Chinese frying pan, which looks so much like a small pot.
This article will save your wok from a similar fate.
What is cooked in a wok in Asia itself
The wok is used in Chinese, Vietnamese and Thai cuisine mainly for stir-fries (quick frying with constant stirring). Many traditional Asian dishes are prepared in this style: different varieties of fried rice and noodles with meat and vegetables, pancakes, funchose, etc.
In Russia, lovers of Asian cuisine often buy a wok to cook fried noodles with spicy sauces in it. But then they forget him, believing that he is not an assistant in the daily cooking. And they are very wrong!
A wok can replace a normal frying pan, stewpan and pot. It is easy to cook stewed vegetables or meat, soups, garnished dishes.
Wok is of two types.
Classic Chinese: steel, with a convex bottom and thin round walls.
Household European: with a bottom for gas and induction cookers. It can be cast iron, aluminum, ceramic, with a non-stick coating.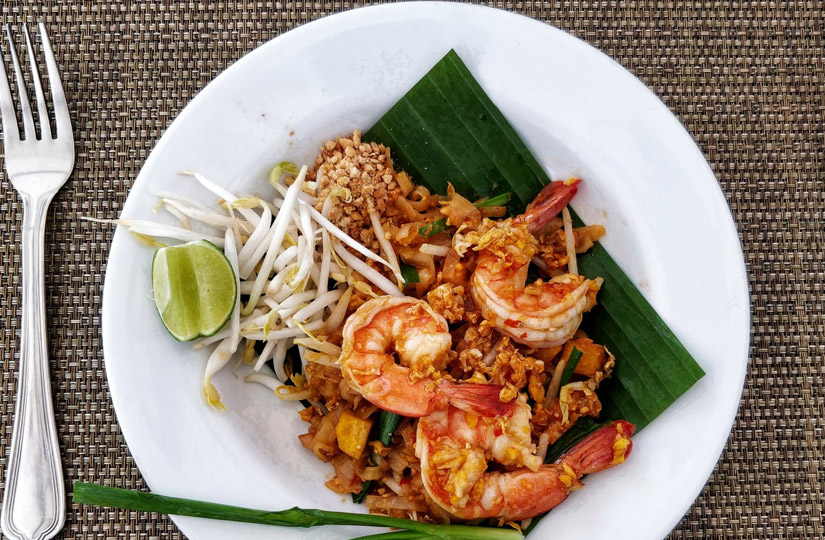 Useful functions of each wok
Cooking speed. Cooking in it takes a maximum of 15 minutes.
Healthy food. The ingredients are fried for 1-3 minutes and do not lose their beneficial and nutritional properties.
No excess fat. When frying at a high temperature, it is enough to add one tablespoon of oil to the wok, and sometimes you can do without it at all.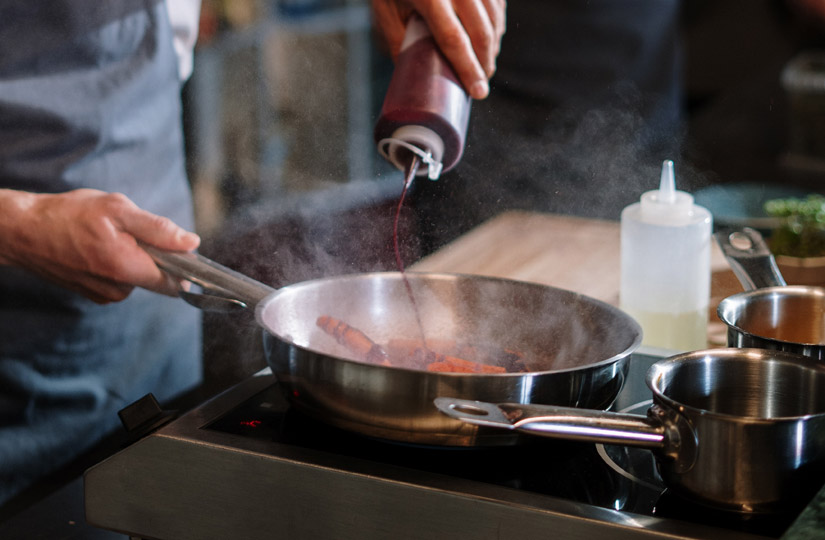 How to choose a universal wok
For authentic cooking, choose a steel classic wok with a dome underneath and thin walls, lightweight and with a long handle. For this you also need to buy a special stand for a round bottom to put it on the burner.
For a combination of tradition and convenience, choose a European wok with a small flat bottom – it's convenient to put it on any stove.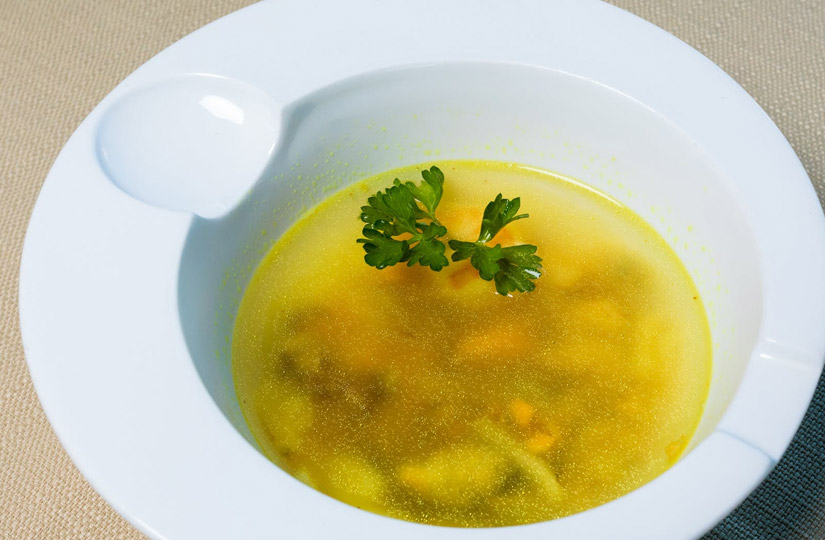 Non-Asian recipes that are easy to cook in a wok
We tried to share with you recipes for familiar dishes that can be cooked quickly in a wok, making them healthier.
Vegetable soup
Soup cooked in water is no less tasty than soup cooked in broth, due to the aroma of quickly fried vegetables. At the same time, it will definitely be less calorie.
You need:
1 siew
1 medium carrot
1 medium bell pepper,
300 g green beans,
300 g cauliflower,
1 tomato
½ st. l. vegetable oil,
1.5 liters of water or chicken broth.
Cut all the ingredients that need to be cut in advance: onions – in half rings, carrots – in strips or circles, paprika – in strips, tomato – in cubes.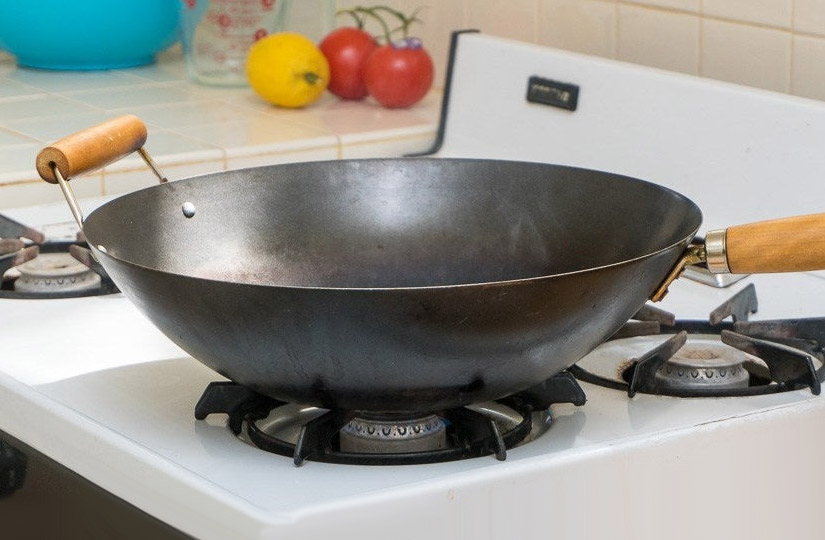 Heat the wok over high heat, pour in the oil and put the vegetables in the following order: carrots, cabbage, beans, peppers, onions. Stir quickly with a spatula, fry the vegetables for 1-3 minutes. Add the diced tomato and cook, stirring, for 1 minute. Remove the wok from the heat and carefully pour in the water or broth. Caution: a lot of steam is generated! Reduce the heat to low, return the wok, cover and simmer the soup for 10-15 minutes. Salt to taste. Serve with black bread, sour cream and herbs.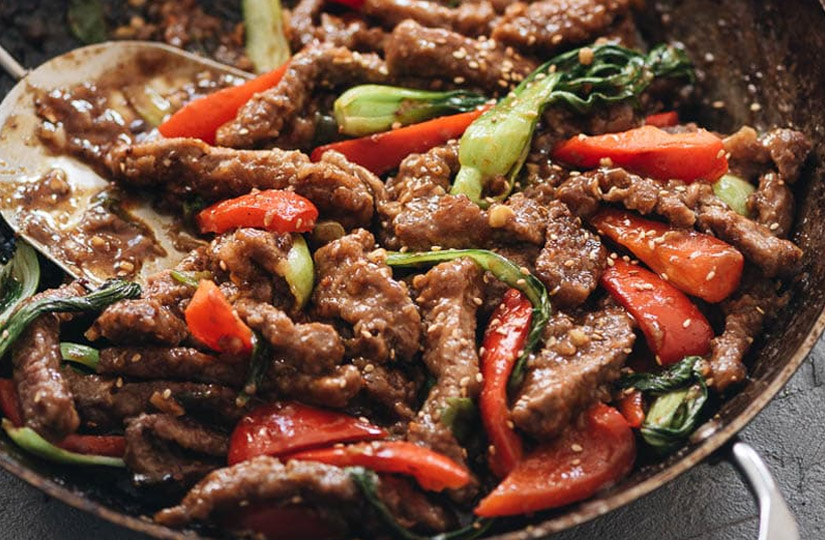 Beef in sour cream sauce
Fast frying at a high temperature "seals" the juice in each piece of beef, making the meat especially aromatic and tender.
You need:
500 g beef (tenderloin or shoulder)
1 siew
1 paprika
1-2 tbsp. l. flour,
3-4 tbsp. l. sour cream
1 pc. l. vegetable oil,
water,
salt and pepper to taste.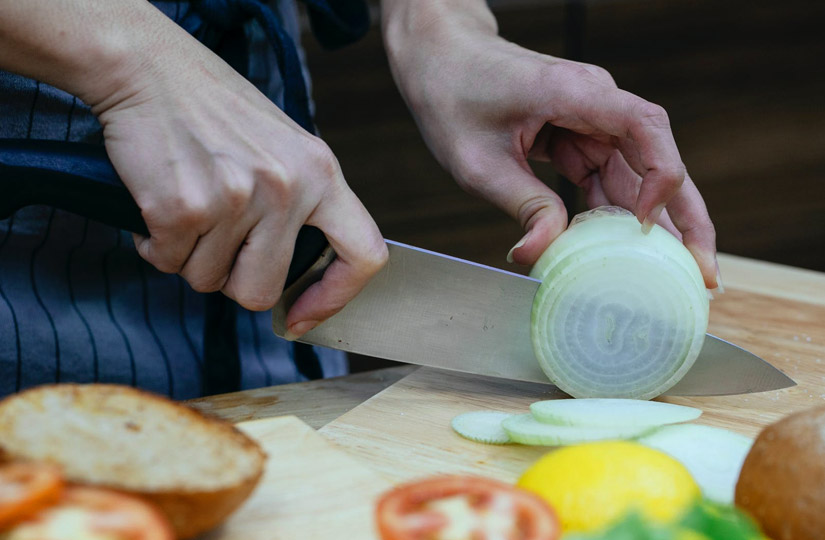 Cut the onion into half rings, pepper and meat into strips. Heat the wok, pour in the oil and quickly fry the beef for 3-4 minutes. Remove the meat with a slotted spoon, set aside on a plate. Without reducing the heat, fry, stirring, pepper and onion for 1-2 minutes. Remove the dishes from the heat, add 1-2 tablespoons of flour and sour cream. Return the meat to the wok and carefully stir in the vegetables, flour and sour cream. Reduce the heat to a minimum, add water to the wok until a thick sauce is obtained, close the lid and simmer until the meat is soft. If you have done everything correctly, it will not take more than 10-15 minutes. At the end, salt and pepper to taste.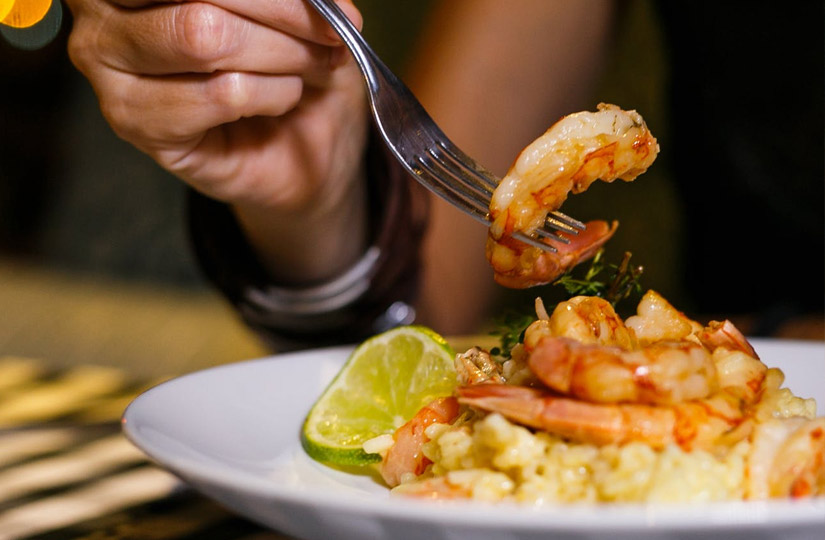 Warm salad with shrimp and zucchini
We have included this simple and at the same time unusual low-calorie salad in our New Year's menu – 2022, and a wok is ideal for its preparation.
Ingredients:
20 king prawns
2 small zucchini,
300 g fresh mushrooms,
2 tsp. l. soy sauce,
lemon or lime juice,
fresh cilantro,
1 clove of garlic
freshly ground black and red pepper
olive oil.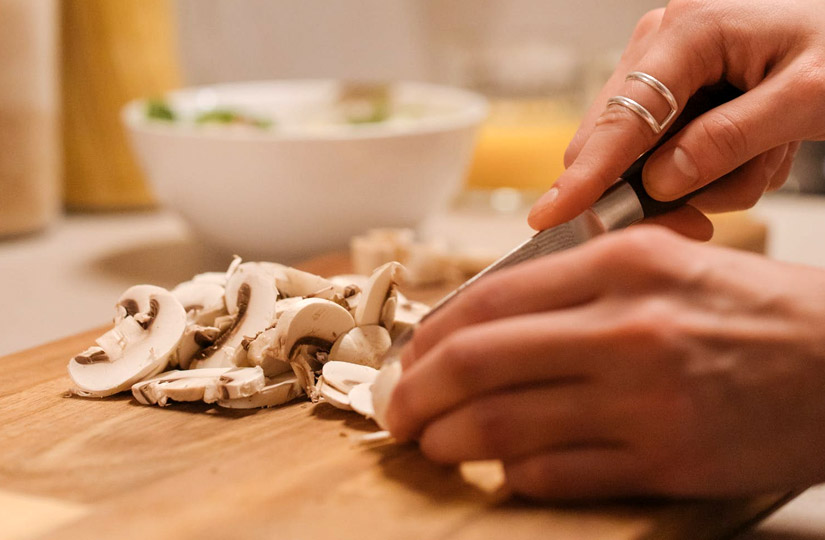 Mushrooms cut into thin slices. Peel the zucchini, if you like, and cut into thin strips. Cut the garlic in half.
Heat a wok over a fire, sprinkle in some olive oil, throw in half a clove of garlic and freshly peeled prawns. Quickly, for 1-2 minutes, fry the shrimps until cooked, put them on a plate, remove the garlic. Put the wok back on the stove, add oil and fry the mushrooms as quickly as possible. Once they are soft, return the prawns to the pan, add the zucchini, 1 tbsp. l. soy sauce and a little lemon juice or lime juice. Stir and immediately remove the wok from the heat. Zucchini do not need to be fried, they will be "reached" by the heat of the rest of the ingredients.
Make the dressing: Whisk a little olive oil with a tablespoon of soy sauce and lime or lemon juice in a bowl.
Transfer the warm salad to a bowl, drizzle with dressing, season with black and red pepper to taste, and sprinkle with fresh cilantro.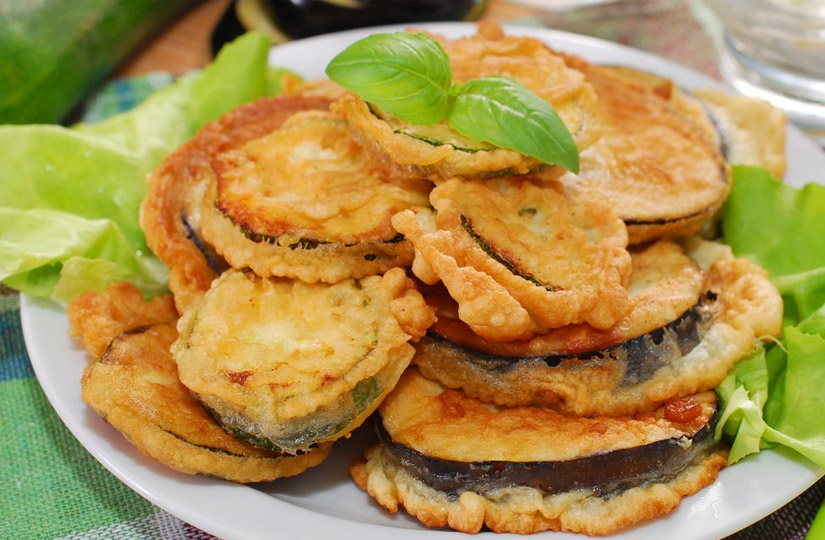 Eggplants in batter
You need:
4 eggplants
2 eggs,
salty,
ground black pepper,
2 tsp. l. potato starch,
1 pc. l. flour,
30 g vegetable oil,
3 cloves of garlic,
greens,
sauce to taste.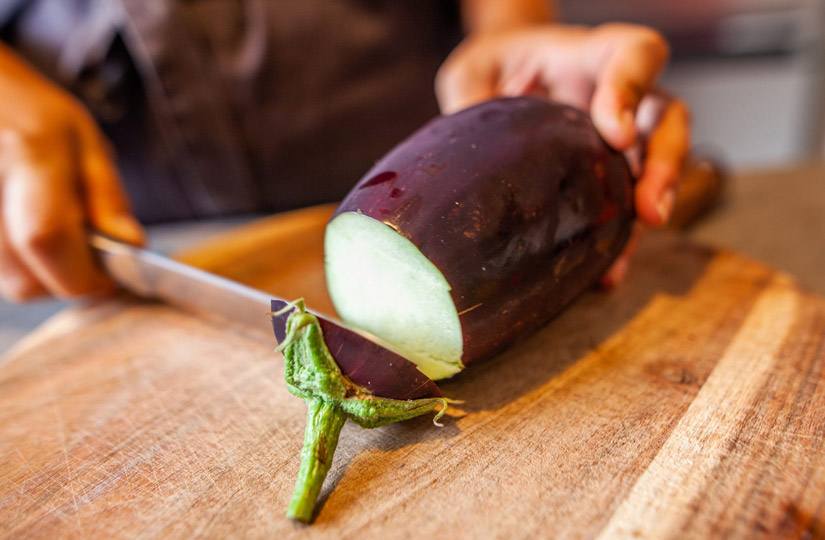 Cut the eggplant into slices, lightly salt, leave for 15 minutes. Blot the resulting juice with a paper towel.
Prepare the batter: mix eggs, starch, flour in a bowl. Salt, add salt and pepper to taste.
Heat sunflower oil in a wok, put a special grate on the edge. Dip the eggplant pieces in the batter, lower into the wok with a slotted spoon, fry on both sides. Carefully remove and place on a wire rack to drain excess oil.
Serve warm and with any sauce you like. Sweet and sour, honey mustard or regular soy are ideal. Sprinkle with finely chopped garlic and herbs before serving.
And what more pans is in your kitchen? Already found a place?