Even children who flatly refuse vegetable cream soup and minestrone usually enjoy grandma's homemade noodles in chicken broth with pleasure. However: it's like pasta, only much tastier!
The main secret of homemade noodles is actually in the noodles themselves. The dough for it should be thin and elastic. Are you afraid you won't succeed? We assure you: everything is easier than it seems. This simple recipe can be mastered even by novice cooks. And if you get homemade eggs, then the noodles will be an incredibly beautiful bright yellow color, and their taste cannot be compared with bought noodles.
So, how can you cook the right noodles at home?
Ingredients for Homemade Noodles:
Eggs – 2 pcs.
Pea – 200-230 g
Vegetable oil – 1 tbsp. l.
Salt – ½ tsp
Soup ingredients: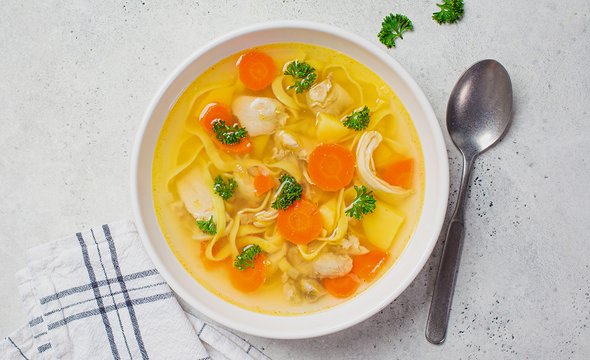 Chicken breast
Carrots – 1-2 pcs.
Onion – 1 pc.
Greens
laurel
Salt pepper
Knead the dough for homemade noodles and send it to the refrigerator for half an hour. Mix eggs with salt, add vegetable oil and mix a little more. Sift the flour and knead the dough. We put it in a bag and send it to the cold for half an hour.
Cut the noodles for soup and send them to dry. Divide the chilled dough into 2-3 parts (so that it is more convenient to roll out). We turn the finished layer in half, and then in half again. You will get a rectangle, which must now be cut into thin strips – it is better to use a pizza cutter for this purpose. Or get yourself a noodle cutter: it will be possible to cook noodles with it on an industrial scale. If you​​​​​​are not going to cook the soup at the moment, spread the noodles on baking paper. After a day it will dry, and you can transfer it to a glass jar for storage. For those who still want to cook classic chicken noodles, there are a few more simple steps.
Boil chicken breast broth. While the delicious noodles dry before cutting, we wash the chicken breast and send it to a pot of water. Immediately add salt, pepper and root vegetables to taste. Bring to a boil and cook until soft.
Boil the broth and cut the chicken into pieces. We catch the chicken breast, disassemble the meat into pieces. We filter the broth through cheesecloth and return to the pan together with chicken pieces.
Prepare the soup dressing and add the homemade noodles. Onions and carrots are cleaned, finely chopped and sautéed in a small amount of vegetable oil. We send the roast to the pan, add homemade noodles – and cook for 8-10 minutes. Don't forget to add bay leaf for flavor.
Serve homemade noodles with chopped fresh herbs (if your children love them in soup) and toasted white bread.
Cover image: rawf8 / Shutterstock / Fotodom