Moussaka. Photo: spetsiipryannosti.ru
Moussaka in Greek
Ingredients: potatoes – 2-3 pieces, eggplant – 2 pieces, beef – 300 g, tomatoes – 1 piece. (or 2 tablespoons of tomato paste), red pepper – 1 pc., onion – 1 pc., fresh herbs (mint, parsley, oregano – whatever), olive oil, salt, pepper. Bechamel sauce: 500 ml milk, 50 g butter, 2.5 tbsp. l. with a slide of flour, 2 eggs, bay leaf, salt, pepper, nutmeg.
Cut the eggplant into circles, soak in salted water, leave for 20 minutes. Boil the potatoes, cut into circles and put in a deep baking dish as the bottom layer. Fry the onion until soft, add the finely chopped pepper pulp, after 5 minutes increase the heat, add the minced meat and cook for another 5 minutes. Then cut the tomatoes in the pan, salt, pepper, mix and cook for 15 minutes. Add fresh herbs, put the contents of the pan in a dish on top of the potatoes. Squeeze the potatoes out of the water, wipe with paper towels, fry on both sides and lay out the top layer. Prepare the bechamel sauce: melt the butter, fry the flour in it until golden brown, pour in the milk, stirring constantly, add the nutmeg, a part of the grated cheese, at the end – beaten eggs and stir the sauce for a another 3 minutes over low heat (you can use a submersible blender). Pour sauce over moussaka, sprinkle with grated cheese. Put the form in preheated to 180 degrees. oven Bake 45-60 minutes. Remove from oven, let rest 20-30 minutes, then cut into portions and serve.
Baked eggplant salad
Ingredients: eggplant – 4 pcs., Bulgarian pepper – 2 pcs., tomatoes – 3 pcs., garlic – 1 clove, olive oil – 1 tbsp. l., lemon juice – 2 tsp. , salt – 1 cup, sugar – 1 tsp, spices, coriander (seeds), ground black pepper.
Wash all the vegetables and place on a baking sheet. Put in an oven heated to 200 degrees and bake: tomatoes for 30 minutes, and pepper with eggplant for about 40 minutes. Put the baked vegetables in a plastic bag, close and let cool until warm. After that it will be easy to peel them off. Drain the juice from the tomatoes. Cut the vegetables into cubes, add chopped garlic, salt, pepper, oil and lemon juice, sugar, chopped cilantro (if you don't like cilantro, then parsley) and mix everything well. Sprinkle with coriander seeds, cool for 2 hours and serve. This salad can be kept in the refrigerator for several days. With time it gets even tastier.
Eggplant boats with minced meat and cheese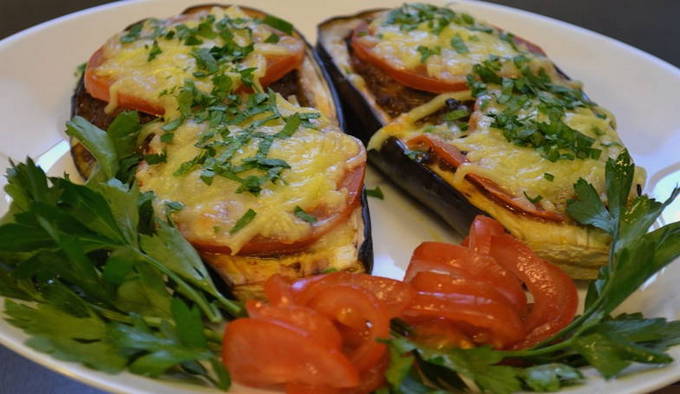 Ingredients: eggplant – 2 pieces, tomatoes – 3 pieces, mixed chicken – 300 g, cheese – 100 g, parsley, salt, pepper.
Cut the eggplant into two pieces along the fruit. Carefully cut out the pulp with a knife or remove it with a spoon. Take a little salt and rub the inside of the eggplant. Leave them for 30 minutes to release the juice. Mix minced chicken with chopped parsley, salt and pepper to taste. Cut the tomatoes into circles. Drain the juice released from the potatoes in the sink, put the boats on a baking sheet and fill them with minced meat. Place the tomatoes on top. Preheat the oven to 200 degrees and bake the eggplant for 15 minutes. Then we take the baking sheet out of the oven, sprinkle the dish with cheese and bake for another 15 minutes.
Eggplant in sweet and sour sauce
Ingredients: eggplant – 2 pcs., red and green peppers – 2 pcs., starch – 1 tbsp. l., sunflower oil for frying, salt to taste, garlic – 2 cloves. For the sauce: water – 1 cup, fresh ginger – 15 g, soy sauce – 35 ml, rice vinegar – to taste (can be replaced with apple cider vinegar or dry wine), honey – 1 tbsp. l., starch – 1 tbsp. l.
Cut the aubergine into cubes of 1 cm thick. Salt abundantly, rinse after 15 minutes, squeeze with a towel, cover with starch and mix quickly. Fry in vegetable oil until golden brown, stirring constantly. Remove from pan. Remove the seeds from the Bulgarian pepper, cut into wide strips and fry in oil until light golden. Add pepper to eggplant. For the sauce, mix honey, ginger, soy sauce, vinegar, add hot water, starch and mix everything (be sure to taste it). Then pour the vegetables with the resulting ginger sweet and sour sauce and simmer for 5 minutes over low heat until it thickens a little. At the end, add chopped garlic.
Eggplant casserole with tomatoes and cheese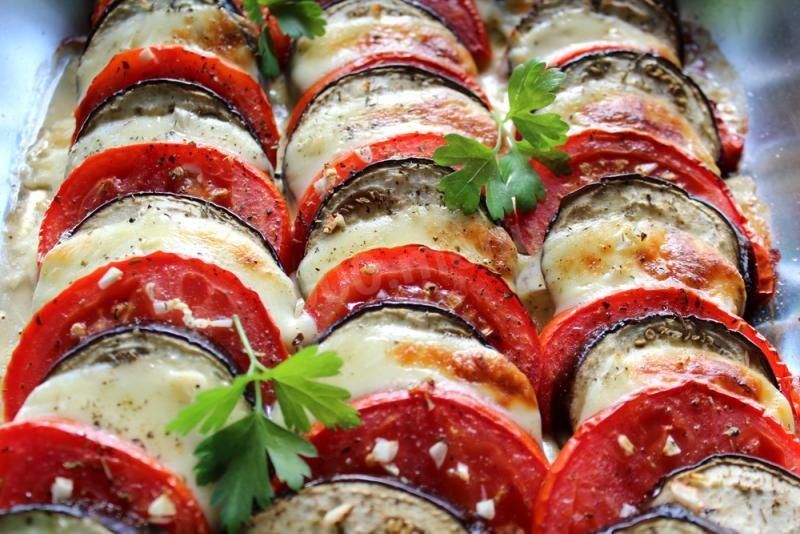 Ingredients: eggplant – 2 pieces, tomatoes – 2-3 pieces, suluguni cheese – 150 g, garlic – 1-2 cloves, olive oil, salt, pepper to taste, basil or parsley.
Preheat the oven to 220 degrees. Cut the eggplant and tomatoes into thin slices. We don't chop the garlic finely, as usual, but we cut it very coarsely. Cut cheese into thin slices. We take a heat-resistant bowl and lay the vegetables in it with an overlap, alternating eggplants, tomatoes and cheese. Randomly add garlic, cover with oil, sprinkle with pepper and dry herbs. We put the form in the oven for 20 minutes. Sprinkle with basil or parsley before serving.
Pilaf with eggplant
Ingredients: rice – 250 g, eggplant – 2 pcs., onions – 1-2 pcs., carrots – 1-2 pcs., garlic – 1 cup, vegetable oil – 100 ml, salt – to taste, spices for pilaf.
Prepare all the ingredients. In a cauldron, heat the oil and put the carrots and onions cut into strips. Fry vegetables, stirring, until soft. Add aubergines cut into medium-sized pieces. Cook everything together for about 5-7 minutes more. Then pour in boiling water so that the water almost completely covers the vegetables. Add salt, herbs to taste and cook vegetables over low heat for 5 minutes. Add the washed rice and smooth it out with a spoon. Add the peeled garlic cloves to the top of the rice and add water to cover the rice by about 1.5-2 cm. Then collect the rice in a slide to the center, cover with a plate, close the kettle with a lid on top, reduce the fire and cook the pilaf for another 10 minutes. Ready pilaf, without opening the lid, let it brew for about 20 minutes. Stir carefully before serving.
Age category of materials: 18+
Related materials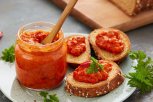 Aivar, fiery tsitsak and grilled vegetable caviar: 3 recipes of great taste and without a drop of vinegar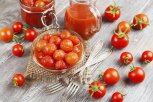 5 recipes for delicious and simple vegetable preparations: eggplant or barbecue, sun-dried tomatoes, lecho
5 recipes for homemade pickles of cucumbers, zucchini, eggplant, tomatoes and cabbage
Six unusual recipes with blackcurrants
Meat, lean and sweet pasta: 5 recipes for a popular Italian dish
Cucumber feast: 8 recipes for dishes with green vegetables
Top peach recipes: desserts, main dishes and compote
8 delicious and simple zucchini dishes: boats, cake, quick pancakes
5 unusual recipes with strawberries: gazpacho, pannacotta, pies, salad and Tsvetaevsky pie
7 recipes for sweet dumplings with honeysuckle, strawberries and cherries