Many diets, and good nutrition in general, force, in a certain sense, to limit the diet and give up many products – sugar, eggs, gluten, milk. And most of your favorite candies include these ingredients.
In fact, avoiding pancakes, cakes and ice cream is not necessary at all. You just need to know how to cook them properly.

The trainer answers: what happens if you give up gluten, milk and meat?
Chocolate raspberry brownie without sugar
You need:
walnuts – 150 g;
cocoa powder – 35 g (15 g for cake and 20 g for mousse);
plums with pit – 150 g;
coconut oil – 15 g;
avocado – 1 medium or 2 small;
Jerusalem artichoke syrup – 50 g;
vanilla – 3 drops of liquid extract or 1/4 tsp. ground
First, use walnuts, cocoa powder, prunes and coconut oil to make a mixture for the base. Beat all the ingredients with a mixer until a homogeneous mass is obtained, but do not bring to the state of a paste – small pieces must remain in the dough to make the cakes crispy. Place the base in the shape of round cookies – for convenience you can use a silicone mold – and cool.
While the cakes are cooling, you can prepare the chocolate mousse. Beat avocado, cocoa powder and 3-4 pitted plums in a blender, add Jerusalem artichoke syrup and vanilla. The mass should be thick and homogeneous.
The finished dessert must be "assembled", put the components in this order: cookies, mousse, fresh raspberries, cookies. You can decorate the dessert with mint leaves, and replace raspberries with seasonal berries or any other.
Gluten and sugar free muffins
You need:
carrots (peeled and grated on a fine grater) – 400 g;
eggs – 3 pcs. or flax seeds (about at least 40 minutes) – 75 g;
olive or coconut oil – 100 g;
Jerusalem artichoke syrup – 130 g;
amaranth flour – 50 g;
green buckwheat flour – 90 g;
chickpea flour – 40 g;
rice flour – 40 g;
baking soda – 4 g (+ apple cider vinegar for quenching);
ground ginger – 4 g;
ground cinnamon – 4 g;
raisins – 150 g.
Although this recipe will require a lot of ingredients, the preparation process itself is quite simple. All components must be thoroughly mixed and put in a form – one large or several small ones. Bake muffins at 170 degrees for about 25-45 minutes, depending on what size cupcakes you decide to make.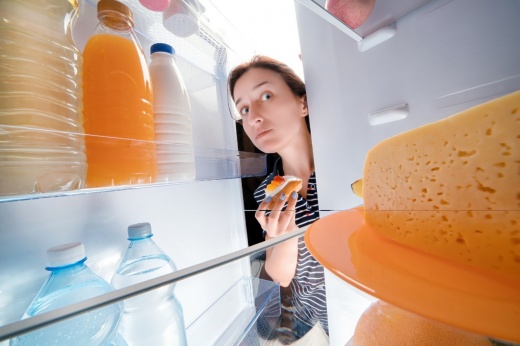 How to get rid of the feeling of hunger? 10 healthy snack ideas
Keto Zucchini Waffles
You need:
zucchini – 1 medium;
eggs – 2 pcs.;
almond flour – 1 tbsp;
coconut flour – 1 tbsp. l.;
thick sugar – 2 tbsp;
grated parmesan cheese (or one of your choice) – 2 sl;
sea ​​salt;
Provençal herbs;
melted butter – 1 tbsp
Grate the zucchini, salt and squeeze out excess water through a cloth. In a large bowl, combine zucchini and all other ingredients, mix well.
The waffle iron should be well heated and greased with melted butter, the dough should be evenly distributed over the form and baked for 4-5 minutes.
Serve keto waffles with avocado, salmon, cheese or other toppings of your choice.
Berry ice cream without sugar and gluten
You need:
frozen bananas – 2 pcs.;
frozen berries – 1 cup;
vegetable milk – 2 tbsp. l.;
vanilla extract – 1/2 tsp
Before freezing bananas, it is better to cut them – this makes it easier to mix with other ingredients. Mix all the ingredients in a blender until smooth, then distribute in molds and place in the freezer.
You can use seasonal berries or any other. ​​​​​​​However, if you are making ice cream with fresh fruit instead of frozen, you should leave the mixture in the freezer overnight to set properly.
Buckwheat popcorn
You need:
buckwheat – 80 g;
erythritol (sugar) – 25 g;
cinnamon – 1/2 tsp
Wash the buckwheat, put it on a towel and dry it in a convenient way – for example by spreading it in the sun.
Pour dry buckwheat into a hot frying pan and stir constantly. Fry over high heat for about 4-5 minutes, gradually reducing the power. Then add sugar and cinnamon, mix thoroughly and keep the fire for another 1-2 minutes.
Charlotte without gluten, sugar and eggs
You need:
potatoes – 4-5 pcs.;
chickpea flour – 200 g;⠀
apple juice, compote or vegetable milk – 200 ml;
Jerusalem artichoke syrup (or other sugar) – 6 tbsp. l.;
vegetable oil – 3 tbsp. l.;
apple cider vinegar or lemon juice – 1 tbsp. l.;
soda – 1/2 tsp;
cocoa powder – 1-2 tbsp. l.;
salt and cinnamon – to taste;
Cut the potatoes into slices. Mix flour, soda, juice, vegetable oil, sugar, salt and cinnamon. Add apples and vinegar or lemon juice to the resulting dough, mix well. Put the mixture in a mold and bake in the oven for 30-40 minutes at a temperature of 180 degrees.
Pancakes without sugar and sweeteners, gluten, eggs and milk
You need:
oatmeal (not quick cooking) – 130 g;
vegetable milk (oatmeal, almond, etc.) – 150 g;
baking powder – 10 g;
bananas – 2 medium ripe;
vanilla – to taste.
Grind oatmeal to a state of flour – for example with a coffee grinder. Then combine the resulting flour and the rest of the ingredients in a blender until smooth, then let the dough brew for about 10 minutes. During this time, oatmeal will absorb some of the moisture and the mass will thicken.
Pancakes should be fried in a well-heated pan, under the lid and on both sides. If you want, fresh berries or fruits can be added as a filling.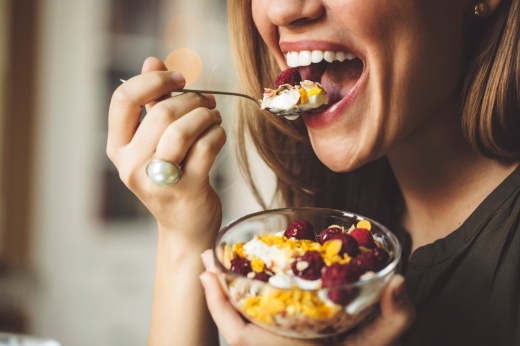 The best is the enemy of the good: why isn't junk food so bad?
You can achieve the desired figure without giving up your favorite dishes. Even for the most "harmful" product, you can find a healthy and even useful alternative.