♥ 15 cherry tomatoes
♥ 1 bunch of green onions
♥ 100 ml mayonnaise
♥ 200 g of cheese
♥ 200 g crab sticks
♥ 3 cloves of garlic
♥ 1 fresh cucumber
Preparation: cut the tomatoes crosswise, remove from the middle with a teaspoon. Cut the crab sticks, grate the cheese on a fine grater and mix them, adding chopped garlic and mayonnaise. Fill the tomatoes with the prepared salad. Garnish the stuffed tulip tomatoes with sliced ​​cucumber and onion rings.
♥ 200 g shortbread cookies
♥ 100 g of butter
♥ 400 g cottage cheese
♥ 200 ml cream 30% fat
♥ 100 g of sugar
♥ 30 g gelatin
♥ 200 g canned peaches (or pineapple)
♥ pinch of vanillin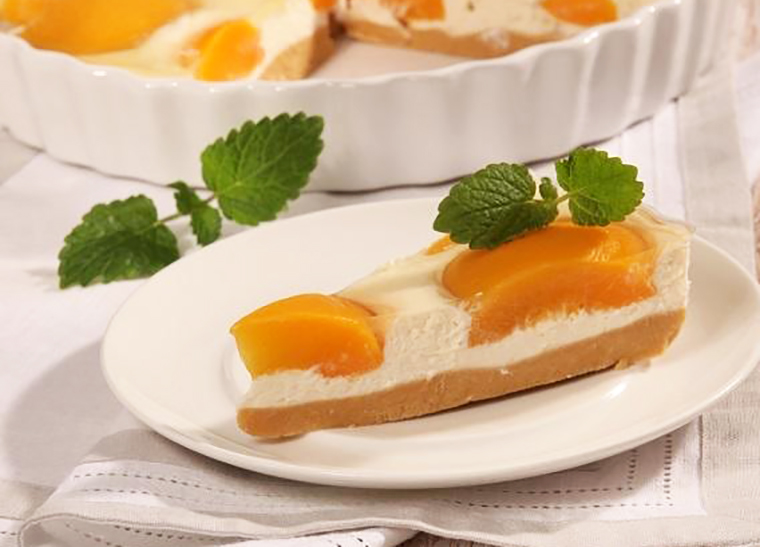 Photo: reception.7dach.ru
Preparation: crush cookies into crumbs, combine with soft butter, mix. Put in a form, spread evenly along the bottom and compact. Dissolve 15 g of gelatin in water, then heat it, without boiling, until completely dissolved. Beat cream, sugar and vanillin, add cottage cheese, mix cooled gelatin in the curd. Put the cream on the base in the form and put in the refrigerator for an hour. Drain the syrup from the peaches, heat and dissolve the remaining gelatin in it. Cut peaches in half, drown in whipped cream. Drizzle with syrup and put in the fridge for 2 hours. Done.
♥ 6 marshmallows
♥ 2 kiwis
♥ 2 bananas
♥ 120 g shortbread cookies
♥ 3 tsp. sour cream
♥ dark chocolate bar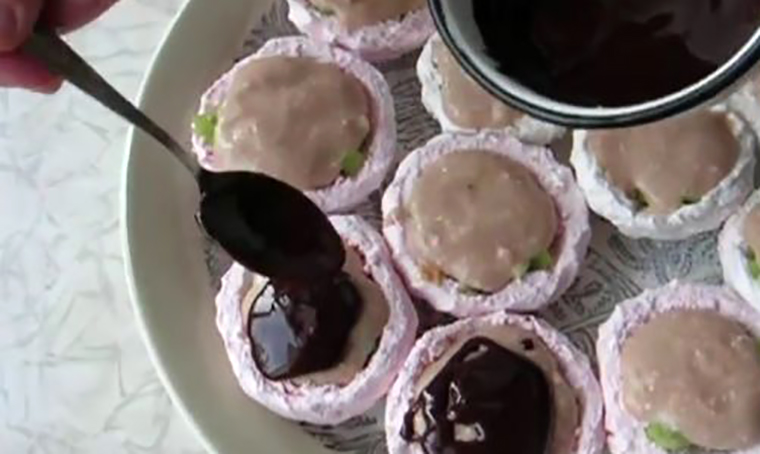 Photo: big_173715
Preparation: remove the center of each half of the marshmallow to make boats. Make the cookies into crumbs, cut the kiwi into cubes. Beat the marshmallows, banana and sugar with a blender. Place crushed cookies and kiwi slices in marshmallow boats. Top with banana sugar. Drizzle the cakes with melted chocolate in a water bath or in the microwave. Put in the fridge for an hour and serve.
♥ 600 g pork (neck)
♥ 300 g onion
♥ 100 g bacon
♥ juice of ½ lemon
♥ 1.5 tsp salt
♥ spices for barbecue
♥ 2 three-liter pots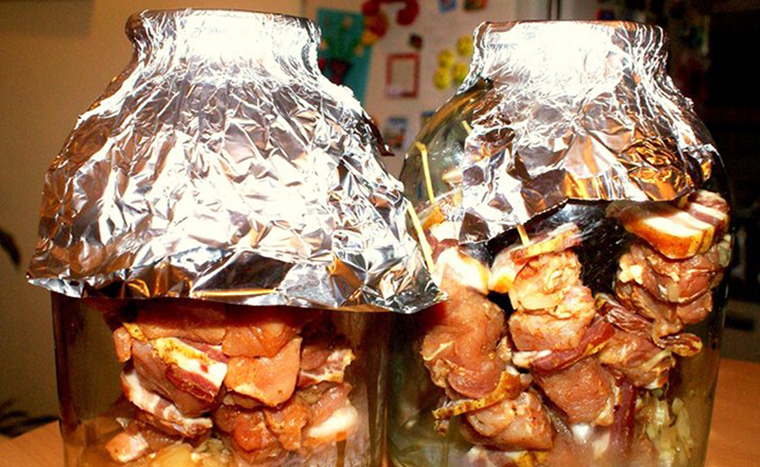 Photo: sovkusom.ru
Preparation: cut the meat into pieces 2×4 cm, add finely chopped onion. Squeeze in the same lemon juice and pour herbs. Mix and leave for half an hour. Soak wooden barbecue sticks in warm water for 10 minutes. Cut bacon (or smoked bacon) into plastic. Fry the meat and bacon alternately on skewers. You should get 10 skewers. Pour the remaining onion on the bottom of two three-liter pots, put 5 skewers in each. (Note: there must be something under the pot – onions, vegetables or just boiling water, otherwise it will burst.) Put the herbs in a cold oven, close the neck well with foil in two additions. Bake for an hour and a half at 200-220 degrees.
♥ 150 g dried apricots
♥ 150 g raisins
♥ 100 g walnuts
♥ 40 g coconut flakes
♥ 30 g powdered sugar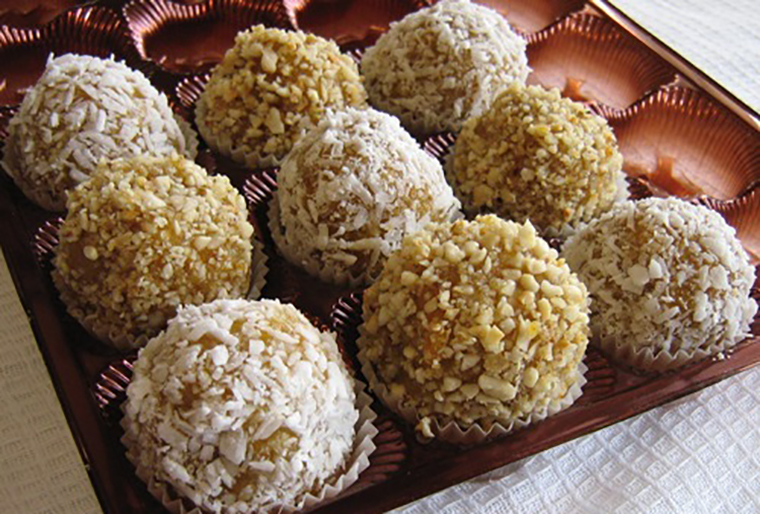 Photo: samvari.ru
Preparation: Pour boiling water over raisins and dried apricots, rinse well, then dry. Grind dried apricots, raisins and nuts in a blender or in a meat grinder. Roll the balls from the resulting mass, roll them in coconut flakes mixed with powdered sugar. Put the candies on a plate and cool a little.
♥ 1 dirty chest
♥ ½ cup prunes
♥ ½ cup walnuts
♥ 4 boiled eggs
♥ 1 onion
♥ 4 pcs. l. mayonnaise
Preparation: Cut the smoked chicken breast and pickled cucumber into small squares. Steam the plums and also chop finely. Chop the nuts, chop the eggs. Mix everything, add mayonnaise. You can serve it on the table in the shape of a heart or a figure eight, decorate with greens.
It only takes a few minutes to make this light vitamin salad. Banana, kiwi, apple, pear, orange cut into cubes and put in a transparent vase. Top with natural yogurt or ice cream. Garnish with strawberry halves and blackberries. You can add chopped walnuts to the dessert.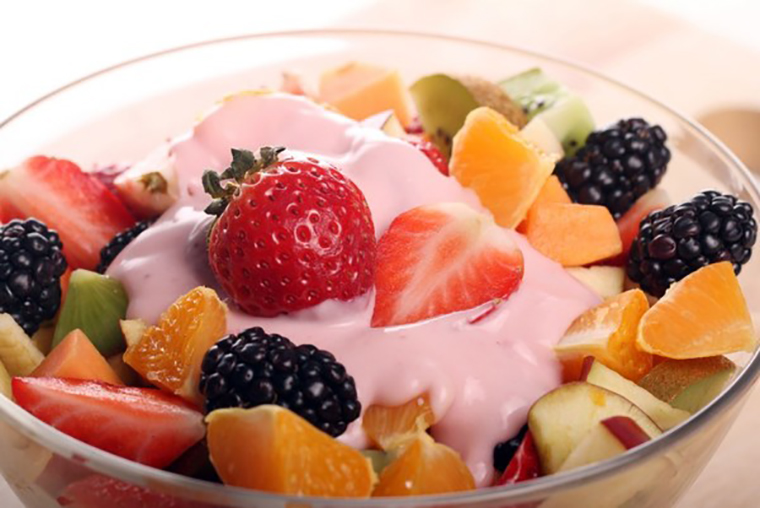 Photo: mirvkysa.ru
The choice of food can tell about the character of a woman. Purposeful and suspicious women love meat. Fish and seafood are dreamers with an open mind. Vegetarians mostly live in their own world. Optimists like fruits and vegetables, but are omnivores. Lovers of "salt" are playful, passionate and romantic. Sweet-toothed and "sharp-toothed" are a volcano of passions, they cannot sit still. "Milk Girls" – solid and decisive. Fans of fast food tend to be the center of attention.
Age category of materials: 18+
Related materials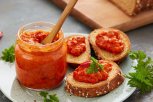 Aivar, fiery tsitsak and grilled vegetable caviar: 3 recipes of great taste and without a drop of vinegar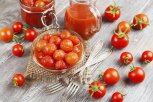 5 recipes for delicious and simple vegetable preparations: eggplant or barbecue, sun-dried tomatoes, lecho
Top eggplant recipes: pilaf, moussaka, casserole, salads and classic boats
5 recipes for homemade pickles of cucumbers, zucchini, eggplant, tomatoes and cabbage
Six unusual recipes with blackcurrants
Meat, lean and sweet pasta: 5 recipes for a popular Italian dish
Cucumber feast: 8 recipes for dishes with green vegetables
Top peach recipes: desserts, main dishes and compote
8 delicious and simple zucchini dishes: boats, cake, quick pancakes
5 unusual recipes with strawberries: gazpacho, pannacotta, pies, salad and Tsvetaevsky pie
7 recipes for sweet dumplings with honeysuckle, strawberries and cherries