In our mini-selection you will find both classic combinations such as chicken and pineapple and delicious experiments.
By the way, for all these recipes (except sauce) honey pineapple is ideal. It is about to become a legendary product of VkusVill, along with Egyptian mango and Hass avocado. We told about how it is grown and why it is so tasty and fragrant in a special report.
Chicken rolls with pineapple
The classic combination of chicken breast and pineapple is complemented by a delicate sweet corn side dish. This dish looks very festive, although nothing prevents you from preparing it on weekdays – it's quite simple.
Ingredients:
chicken breast fillet chilled – 450 g
chopped pineapple – 280 g (2 packs)
raw smoked bacon – 150 g (1 packet)
can of corn without sugar – 1 can (340 g)
cream 30% – 0.5 bottles (95 g)
How to cook:
1. Cut half of the bacon slices in half crosswise, leave half whole. Put half a bacon and a piece of pineapple on each piece of chicken fillet, wrap it in a roll, wrap a whole piece of bacon on top. Repeat with all the chicken pieces, secure the rolls together with skewers or toothpicks if necessary.
2. Heat the oven to 180-190 °C and bake the rolls until soft, about 20 minutes.
3. Prepare the garnish – heat the corn with cream and lightly beat in a blender, not until smooth, just to crush the grains.
Serve the rolls warm with a hot side dish.
And the most favorite recipe for many is a salad with chicken and pineapple. Chicken (cooked fillet or smoked) is cut into thin strips, canned pineapple – if possible in strips, but can be cubed, cheese and egg white are ground on a coarse grater, the yolk – on a fine grater. Make dressing sauce: yogurt, a little mustard and egg yolk are mixed until smooth. The ingredients are layered: chicken – pineapple – sauce – cheese – sauce – egg white. Then they let it soak for a few hours and serve at the table.
Dorada in pineapple sauce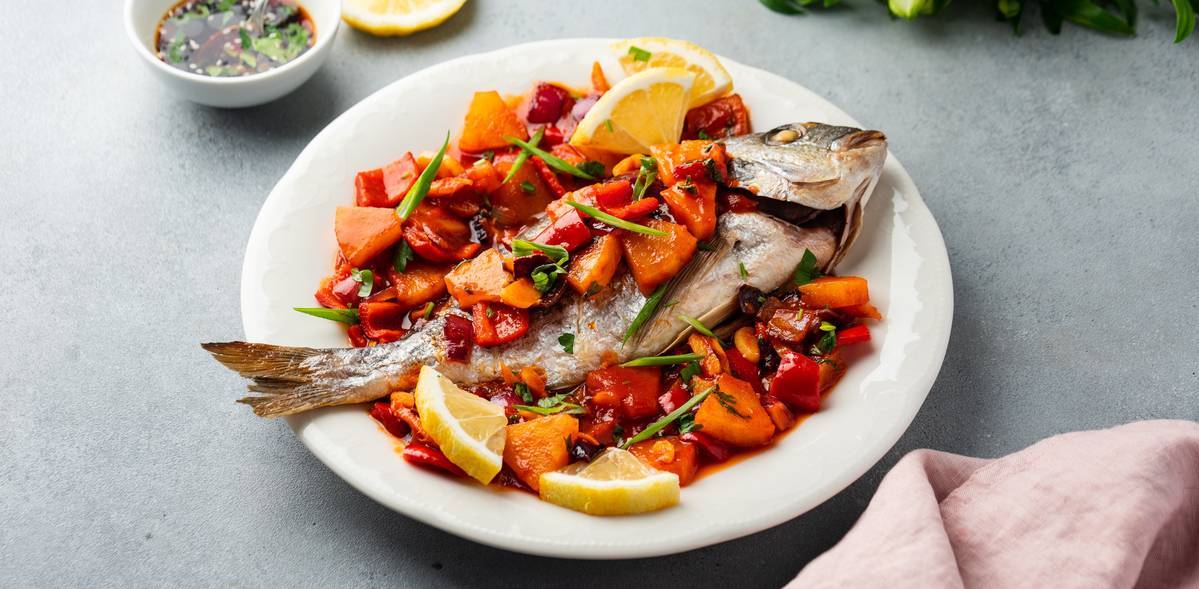 garlic – 3 cloves
lemon – 1 pc.
ginger – 2 cm
tomato paste – 3 tbsp. spoons
refined sunflower oil – 2 tbsp. spoons
apple cider vinegar 9% – 1 tbsp. a spoon
soy sauce – 2 tbsp. spoons
green onion – for garnish
How to cook:
1. Heat the oven to 180 °C. Brush the cleaned fish lightly with oil on both sides, cut the skin crosswise on the back. Place on a baking sheet or wire rack and bake for 20 minutes.
2. Cut the garlic into slices, cut the ginger into strips, coarsely chop the onion, pepper and pineapple.
3. Heat vegetable oil, fry onion, garlic, ginger over medium heat until soft. Add pepper and pineapple and fry, stirring, over high heat for a few minutes. Add the tomato paste, vinegar, soy sauce and pineapple juice to the pan. Cook over high heat for a few minutes until the sauce thickens. Taste and add salt, sugar or vinegar if you like – the sauce should be moderately sweet and both sour and salty. Remove from heat and add finely chopped parsley.
4. Serve whole fish with sauce, lemon wedges and fresh green onions.
Baked pineapple in the oven
This spectacular and light side dish is especially good with chicken, turkey and pork. And you can serve such a pineapple as a dessert, adding ice cream.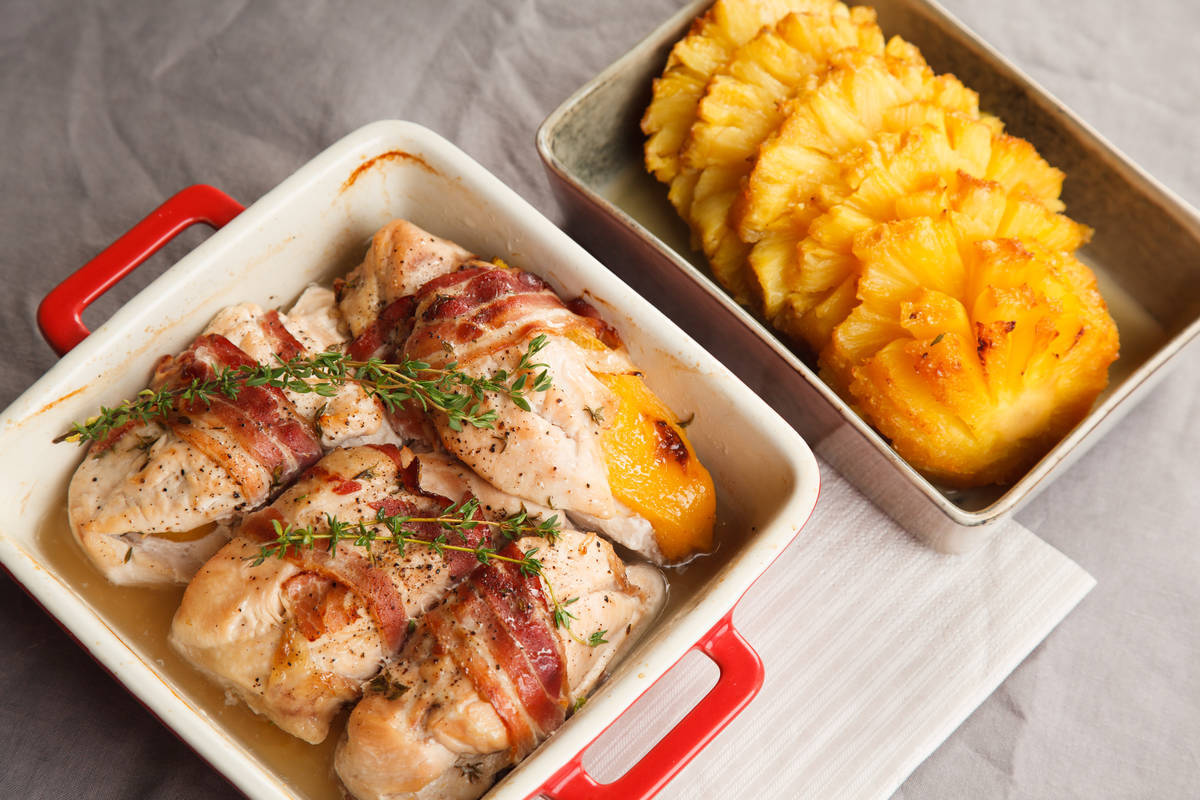 Ingredients:
How to cook:
1. Cut off the top of the pineapple, and then cut off the skin with a sharp knife, without thorns.
2. Cut the pineapple flesh with a sharp knife, rub with sugar and wrap in foil. Bake at 180 ° C in the oven for 1 hour.
Cut the finished pineapple into slices and serve. For example with chicken breasts in bacon.
And in the summer you can cook pineapples on the grill. Cut fresh pineapple into rings or slices, brush a little with oil and keep on the grill until characteristic tan stripes. And you can also make smoked pineapple, the recipe is very simple: put it in the smoker for 5-10 minutes – and you're done.
Dessert pizza with pineapple
Super easy pizza recipe that is especially delicious in the summer. First of all, it does not contain heavy meat products. Second, it contains juicy berries and fruits. And pineapples at the peak of maturity can be bought in VkusVille at any time of the year.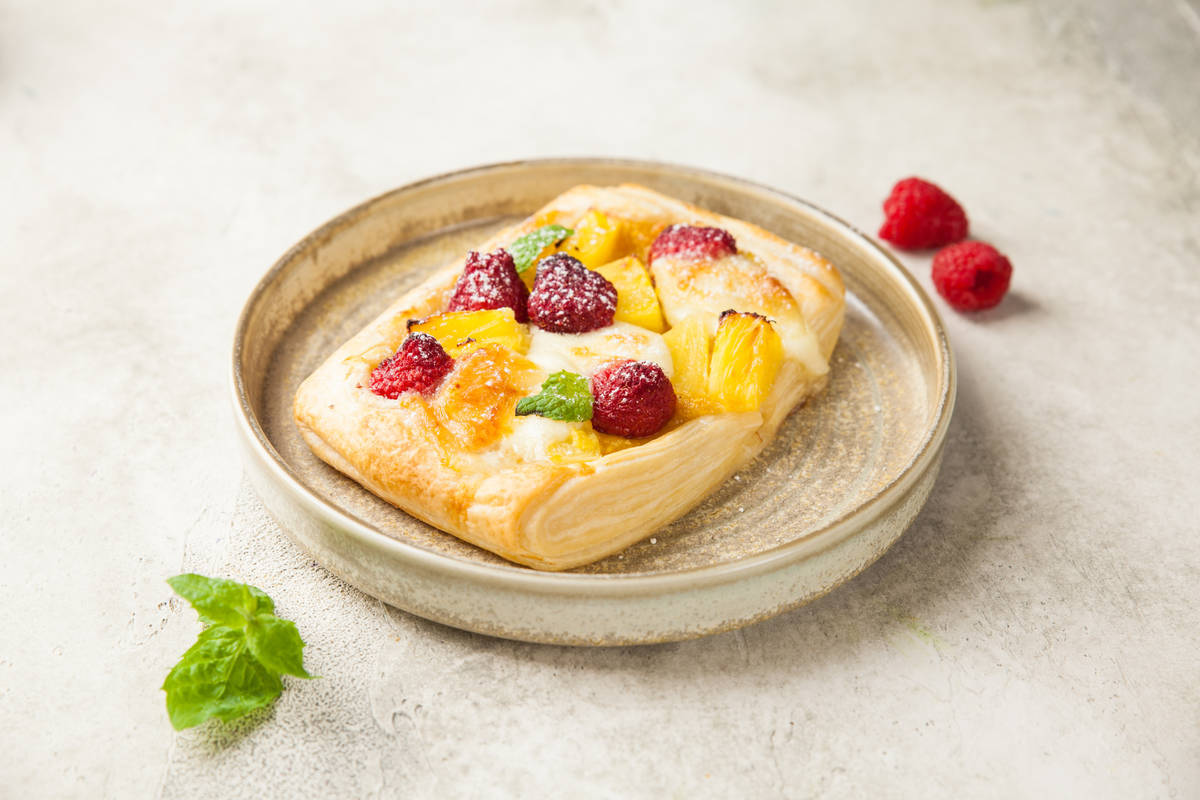 How to cook:
1. Defrost the dough at room temperature for 20-30 minutes.
2. Peel fresh mango, chop finely and mix with mango puree. Cut the pineapple into half rings, and then into small segments.
3. Cut the dough into 15×15 cm pieces, roll out a little and place on a baking sheet covered with baking paper.
4. Empty 2 tbsp. spoons of mango puree for each layer of dough, on top – pieces of pineapple and halves of mozzarella.
5. Bake in a preheated oven for 20-25 minutes at 180 ° C until golden brown. Take out the baking sheet with the finished pizzas, put a few raspberries on each one and bake for another 2-3 minutes. Eat warm, garnish with mint leaves before serving.
And the most famous recipe is, perhaps, pineapple in champagne. Need instructions? There are two options: make champagne-based jelly and add pineapple pieces to it, or simply pour sparkling fruit slices directly into the glass and serve with a dessert spoon or fork. Dessert or cocktail – you decide. But this will definitely become relevant only for the New Year's table …
Pineapple soup
… not only a drink, but also a great ingredient for many dishes and a source of culinary inspiration:
It can be used for marinating meat and poultry (relevant not only for barbecue, but also for options in the oven).
Pineapple juice can be the basis of a meat or poultry sauce. For fish, it is better not to use it without heat treatment – this fruit is so expressive that it will interrupt its delicate taste.
Pineapple juice can be made into jelly for a low-calorie dessert.
You can add it to salad dressing, and then you will get a bright aroma and a tropical note in taste.
It will become the main ingredient in a tropical non-alcoholic cocktail.
But if you really want to enjoy the taste of homemade pineapple juice, then you should choose a ripe fruit for it. How to do it? The color of the fruit, the leaves on the top, as well as the aroma and light pressure will "prompt". Read more about how to choose the perfect pineapple in this article.
Tell us, what is your favorite dish with pineapple? Or do you prefer to eat this fruit just like that, without mixing it with anything, enjoying the pure taste and aroma?