UNIAN suggested recipes for unusual eggplant dishes that will diversify your diet.
Eggplant dishes are actively prepared in July, when the season of this vegetable begins. Even in the middle of summer, housewives make canned eggplants for the winter. UNIAN will propose atypical recipes from different cuisines of the world, the main ingredients of which are the usual "blue".
Badrijani – eggplant rolls with nuts
Badrijani is a traditional Georgian appetizer made of fried aubergines, grated nuts and herbs. If you want to, it can be made less or more spicy, like cheese or minced meat can be added to the filling.
Eggplant – 1 kg.
Walnuts – 200 g.
Cilantro – 25 g.
Garlic – 7 cloves.
Coriander – 1/4 tsp
Suneli hops – 1 tbsp.
Saffron – 1/4 tsp
Wine vinegar – 1 tbsp.
Water – 100 ml.
Vegetable oil – 150 ml.
Pepper, salt to taste.
Rinse the aubergine and cut lengthwise into long and thin slices. Put on a cutting board, sprinkle with salt and leave for 30 minutes to remove the bitterness. Roast the nuts in a dry frying pan and remove the membranes. Grind until smooth in a mortar or meat grinder.
Chop the cilantro and garlic very finely. Combine garlic, cilantro and herbs in a mortar and grind thoroughly. Mix nuts with herbs and vinegar, salt and pepper. Stir the nut filling, slowly pouring in water. Fry eggplant on both sides in vegetable oil until golden brown. Put 1 tablespoon of the filling on the edge of the eggplant plate and wrap the rolls.
Soup with eggplant and vegetables
Beef with bones – 700 g.
Eggplant – 200 g.
tomatoes – 150 g.
Bulgarian pepper – 1 pc.
Potatoes – 3 pcs.
Green beans – 200 g
Carrots – 100 g.
Onion – 1 pc.
tomato sauce – 2 tablespoons
Salt, pepper to taste.
Bay leaf – 2 pcs.
Garlic – 2 cloves.
Greens to taste.
Fry the meat in a pan with butter until golden brown. Then pour water into the pan, reduce the heat to a minimum and cook the meat for 1.5 hours. Finely chop the onion, cut the rest of the vegetables into large cubes. In a frying pan over high heat, fry aubergines and beans in oil for 3-5 minutes, then add the rest of the vegetables and fry for another 5 minutes.
Put vegetables in broth with meat, add bay leaf and tomato sauce, salt and pepper. Simmer vegetables until all vegetables are tender (about 15 minutes). Before you turn off, add chopped herbs and garlic to the soup.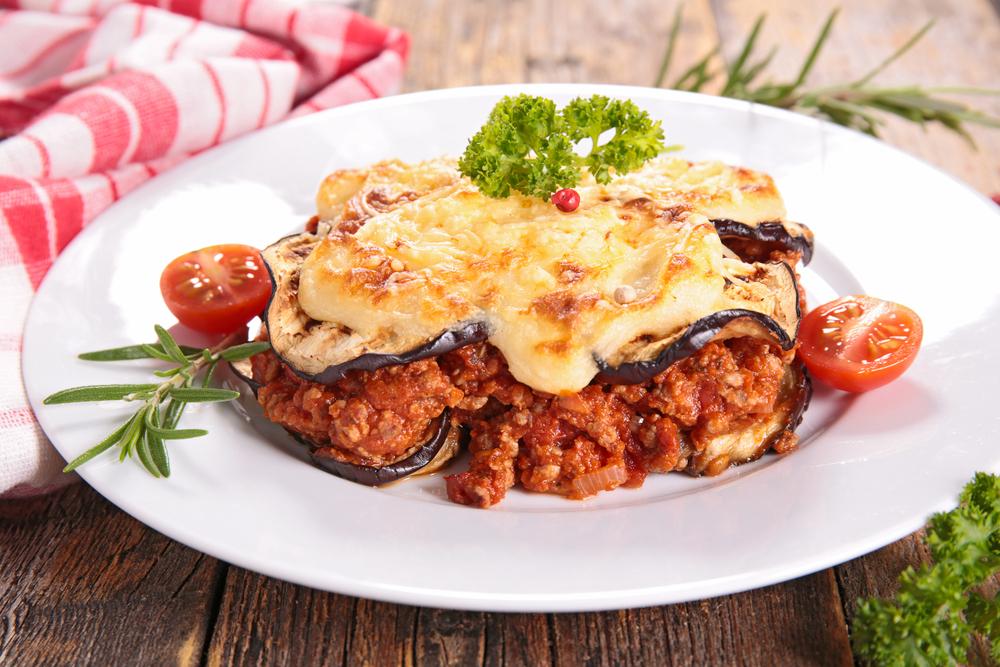 Moussaka with eggplant
Eggplant – 3 pcs.
Olive oil – 120 ml.
Green beef – 350 g.
Butter – 100 g.
Small onion – 2 pcs.
Tomato paste – 2 tbsp
Water – 120 ml.
More – 4 tbsp.
Milk – 2 tablespoons
cheese – 50 g.
A piece of nutmeg.
Salt, pepper, spices to taste.
Moussaka is a Greek second course, a hearty minced meat and eggplant casserole. Products are laid in layers, poured with milk sauce and sprinkled with cheese.
Rinse the eggplant and remove the skin when the vegetable is old. Cut into thin circles. Salt the eggplant and leave for 30 minutes. Fry eggplant in vegetable oil on both sides and put on a napkin.
To make the meat sauce, melt some of the butter in a frying pan. Cut the onion and fry in oil for 3-4 minutes. Add the minced meat and fry for 7-10 minutes. Put tomato paste and water in the pan, as well as herbs and spices. Simmer covered for 30 minutes.
To make the sauce, melt 50 g of butter in a small pan. Stir in the flour and slowly pour in the milk. Cook the sauce over low heat until thick. At the end, add salt and nutmeg. Grease the moussaka baking dish with oil and layer alternately minced meat and aubergine circles. Pour the sauce over the moussaka and sprinkle with cheese. Bake for 40 minutes at 180 degrees.
You may also be interested in the news: