tangerine – 1 pc.;

apple – 1 pc.;

purple – 1 pc.;

grapes – a handful.
To make an unusual fruit salad, you will also need toothpicks. Cut the washed pear in half and turn one of the halves cut side down. Insert toothpicks, imitating the needles of a hedgehog. String washed grapes on toothpicks. We make eyes on the narrow side of the pear: place two toothpicks and string of black grapes on them, make a kiss. On the back of the hedgehog you can attach tangerine slices and apples. Let your child turn on the imagination and decorate the back of the hedgehog with other berries or fruits if you want.
milk – 500 ml;

egg – 2 pcs.;

sugar – 1 teaspoon;

flour – 200 g;

sunflower oil – 2 tablespoons;

food coloring (can be replaced with natural ones: beets, spinach, turmeric).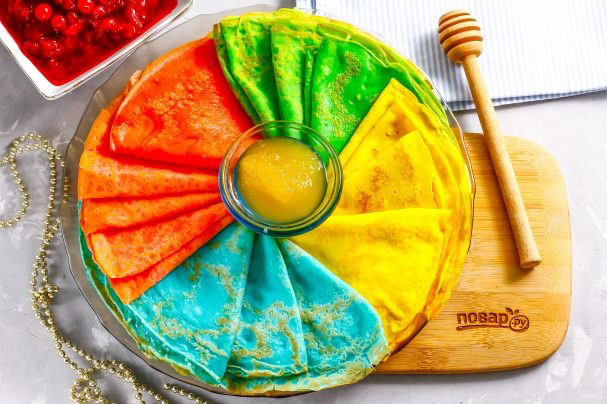 Photo: povar.ru
Any family-tested pancake recipe will do. According to this recipe, first beat the sugar and the eggs a little, then pour in half the volume of milk, add a pinch of salt, flour and stir so that there are no lumps. Then pour the remaining milk and at the end of sunflower oil. Pour the dough into dishes and add coloring. They can also be replaced by natural ones.
For green pancakes: Grind 50 g of spinach and 4-5 tablespoons of water in a blender, drain through cheesecloth and squeeze. Add water to make 100 ml of liquid.
For pink pancakes: grate half of the raw beets into a puree on a fine grater, pass through cheesecloth, squeeze the juice well. In the resulting 50 ml soup, add water to 100 ml. For a yellow color, mix 1 teaspoon of turmeric with 100 ml of water.
When using natural dyes, if necessary, flour the dough to the desired consistency.
flour – 300 g;

soda – 1/2 teaspoon;

butter – 150 g;

sugar – 250 g;

egg – 2 pcs.;

pack of M&M's – 200 g.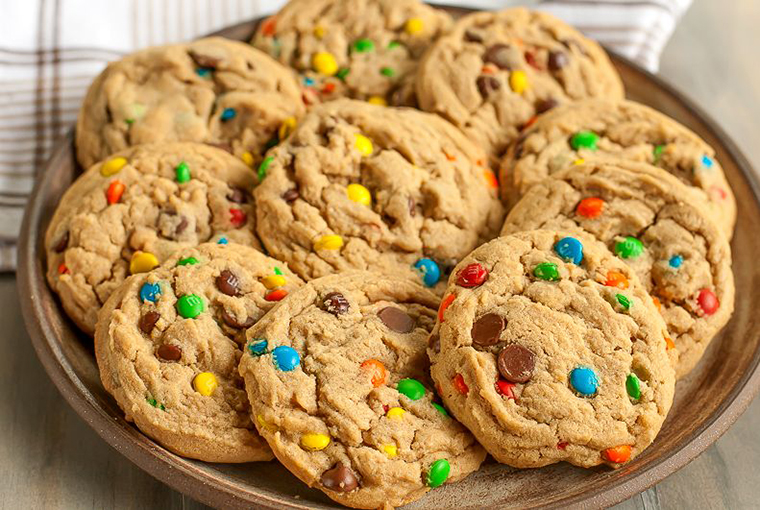 Photo: foodmag.me
Mix flour and soda, in a separate bowl mix sugar and melted chilled butter. Add eggs to sugar and mix well. Add flour in small batches and knead the dough. You can roll out the dough a little, cut out non-thin cookies and "stick" dragees in them. Or introduce them immediately into the dough, and then roll small balls, press lightly, spread them on a greased baking sheet. You can try both methods with your children – the little ones are happy to think with a dough that looks like plasticine. Bake at 170°C for 10-15 minutes.
bananas – 3 pcs.;

powdered sugar – 1 teaspoon;

any not very sour berry (strawberry, currant, blackberry) – 100 g.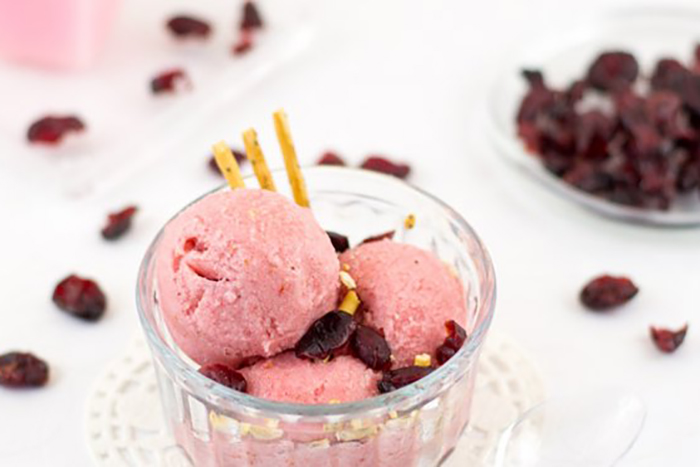 Photo: anymenu.ru
There are many recipes for sorbet. This one is the simplest. Put the ingredients in a blender and mix. The child is fascinated by the folding of fruit into a container and the grinding process. Then you can dissolve the mass in special forms for ice cream – it will also be interesting for the child to put a popsicle stick in it. Then put in the freezer for at least 3 hours. If there are no molds, you can use any small cups or glasses. To remove the sorbet, you need to send a jet of hot water to the container.
any fruit (peach, apricot, banana) – 100 g;

cheese – 350 g;

egg – 1 pc.;

sugar – 1 teaspoon;

salt – to taste;

flour – 2 tablespoons.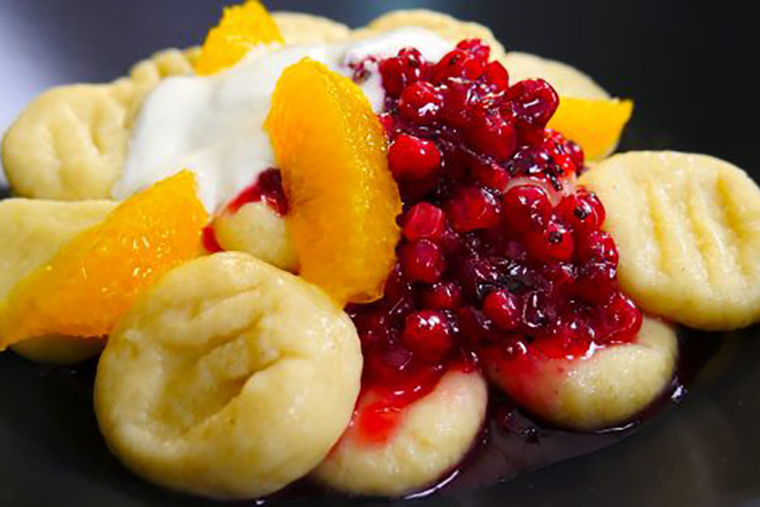 Photo: Depositphotos
Cut the fruit into small pieces. Mix them with cottage cheese, egg, salt and sugar. Pour flour and knead the dough, roll it into a sausage and cut into small pieces. The child will enjoy the cutting process – you can use a safe plastic knife. Cook in salted boiling water for half a minute. Serve with sugar or condensed milk.
With a child, you can cook ordinary dumplings and dumplings. Children will like to grind meat in a meat grinder, roll out dough and cut circles from it, and older children will be able to form a dumpling. You can turn cooking into a game by coming up with different toppings "with a surprise".
Age category of materials: 18+
Related materials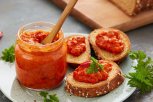 Aivar, fiery tsitsak and grilled vegetable caviar: 3 recipes of great taste and without a drop of vinegar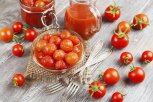 5 recipes for delicious and simple vegetable preparations: eggplant or barbecue, sun-dried tomatoes, lecho
Top eggplant recipes: pilaf, moussaka, casserole, salads and classic boats
5 recipes for homemade pickles of cucumbers, zucchini, eggplant, tomatoes and cabbage
Six unusual recipes with blackcurrants
Meat, lean and sweet pasta: 5 recipes for a popular Italian dish
Cucumber feast: 8 recipes for dishes with green vegetables
Top peach recipes: desserts, main dishes and compote
8 delicious and simple zucchini dishes: boats, cake, quick pancakes
5 unusual recipes with strawberries: gazpacho, pannacotta, pies, salad and Tsvetaevsky pie
7 recipes for sweet dumplings with honeysuckle, strawberries and cherries