It's zucchini season. If you don't want to spend a lot of time cooking, you need a quick and efficient option, then you need to know how to bake delicious zucchini in the oven. The main advantage of such a treat is that it can be filled with a variety of fillings and there are many cooking options, writes sovets.net
The continuation of the article is under advertising
Advertising
Cooking
This vegetable dish is prepared in many ways, in many ways the final result depends on the filling. To make the treat delicious, you need to know how to cook zucchini in the oven, how to choose the right vegetables, stuffing, etc. The filling can be cheese, meat, mushrooms or tomatoes. There are many options, so you will have a wide choice. Dishes from cheap products will turn out to be very tasty if you follow the selection rules that are described below.
How to choose
Fresh specimens have a thin skin, soft pulp, so they are ideal if you want to bake this dish. If there were none in the store, you can take the "old" fruits, but then you have to cut off the rough skin, clean the seeds from the core. This is easily done with a tablespoon. Next, cut them according to the description of the selected recipe. This step is mandatory, then you choose yourself how to cook zucchini in the oven.
Recipes
You can choose how and how to bake zucchini in the oven. They make muffins, pancakes, stews, casseroles, rolls or ratatouille. This will help to please every guest, even those who adhere to a diet diet. Below are the most famous, delicious options for how to cook simply and quickly. You just have to choose the one that suits you best.
with minced meat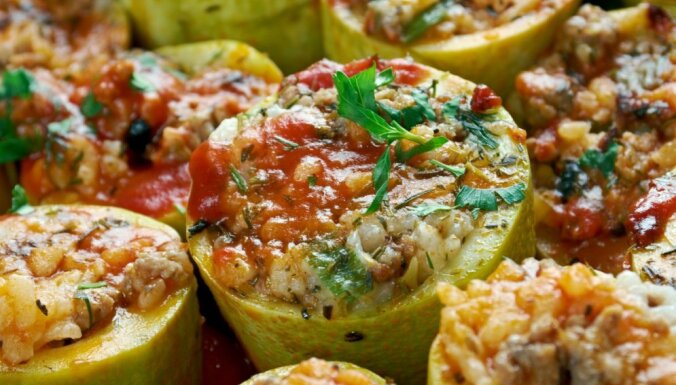 This is a delicious version of a low-fat dish that has both meat and vegetable components. Barrels of minced meat, baked in the oven, complement each other perfectly and emphasize the merits of each ingredient. They are best served with greens, garnished with fresh lettuce leaves. Below is a step-by-step cooking recipe with a detailed description and photo.
Ingredients:
onions – 5 pcs.;
carrots – 1 pc.;
yellow / green Bulgarian pepper – 1 pc.;
young zucchini – 2 pcs.;
water – 1 cup;
rice – 150 g;
meat – 500 g;
cheese – 50 g;
spices;
vegetable oil;
clove garlic – 3 pcs.
Cooking method:
Start by preparing the filling. Rinse, cook the rice until fully cooked, let cool. Finely chop the garlic, remove the skin. Cut the onion into small cubes, before minced meat is allowed to fry it. Greens should also be washed, cut into small pieces. Mix boiled rice with minced meat, onion, herbs and garlic. Add spices to taste.
Next is roasting. Take the 2 remaining onions, cut into half rings. Grate peeled carrots into large grains. Remove the seeds, core from the bell pepper, cut into medium-sized cubes. Fry carrots, pepper, onions in a frying pan heated with oil. If you want to, you can add sugar, tomato, salt here.
Wash the zucchini well, cut off the tails, cut into circles, each 4 cm thick. You can also cut them lengthwise, making baking boats. This option is optimal if the vegetable is thin, so that there are no high edges.
Free each circle with a teaspoon of the core, leaving the bottom about ½ centimeter.
Stuffed kegs should be cooked in a high-sided pan or skillet. Add the frying to the form, lay each circle separately on top and pour a glass of water.
Add the next layer of sugar.
Put in the oven. Hold at 180 degrees for 20 minutes, then remove, sprinkle with grated cheese and return back for another 10 minutes.
Casserole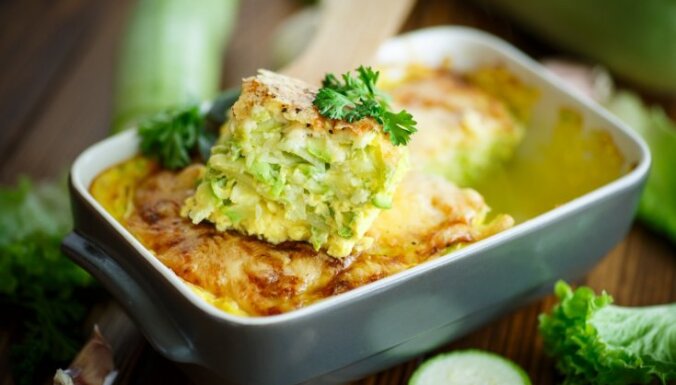 According to these instructions, zucchini casserole in the oven can be cooked not only with cheese, but also with vegetables, boiled chicken breast, turkey, rice or mushrooms. The recipe is very plastic, it can be changed to suit your taste and needs. This is especially useful in a period when there is a wide selection of products from the garden. Below is a classic example of cooking a casserole with a photo.
Ingredients:
eggs – 5 pcs.;
processed cheese – 3 pcs.;
zucchini – 3 pcs.;
spices;
onions – 2 pcs.;
frying oil.
Cooking method:
Wash, dry, cut into circles. If the vegetable is old, then the coarse skin must be removed, otherwise the casserole will not be tender.
Cut the onions, fry them in oil in a pan with high sides for a few minutes.
When the onion becomes translucent, add the circles. Stir carefully so they don't fall apart and turn into a puree. They should soften, it takes 5 minutes.
Cut the cheese into small cubes, you can grate. Put on the pan.
Fry the peeled garlic.
Salt to your taste, add spices.
Remove everything from the stove, let cool. Take a bowl (deep), beat in the eggs, add a little salt and stir with a whisk.
Pour the eggs into the mixture, mix well.
Preheat the oven to 180 degrees, grease the mold with oil, put the prepared dish on it and put it to bake.
After 40 minutes the casserole will be ready.
With tomatoes and cheese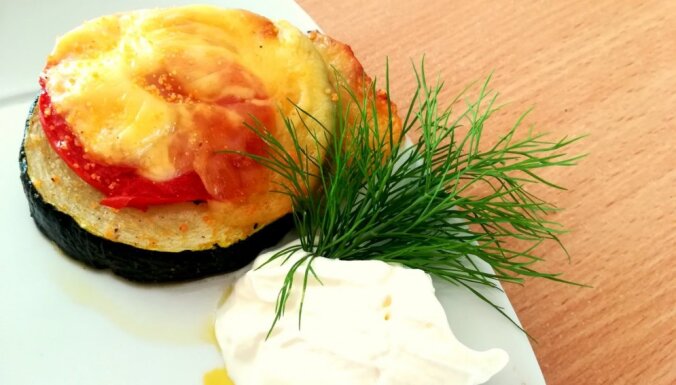 If there is a large selection of different fresh vegetables in the summer, there is a great opportunity to cook an inexpensive product in the oven with tomatoes and cheese. This recipe is called a classic, it is often served on the festive table as a delicious snack. This dish is prepared quickly and does not cause difficulties, even for novice cooks. You will not spend more than 1 hour on the whole process of preparation and baking. Photos and step-by-step instructions are presented below.
Ingredients:
large zucchini – one;
cheese – 150 g;
fleshy tomatoes – 3 pcs.;
mayonnaise – 70 g;
parsley / dill – to taste;
spices;
garlic – 4 cloves.
Cooking method:
Wash and dry the herbs.
Cut the vegetables into rings, each about 1 cm thick.
Cut the tomatoes too.
Finely chop the greens. Put it in a bowl, squeeze the garlic through a press.
You have to grate the cheese on a large grain.
Mix cheese, mayonnaise with herbs.
Add spices to taste, mix the contents of the bowl well.
Pepper everything and a little salt.
Put a circle on a baking sheet, on top – a tomato, then – a cheese-mayonnaise mass.
Preheat the oven to 200 degrees, put a sheet in it. Only the bottom heat can be switched on during cooking. You can switch to the grill 5 minutes before the end of cooking to get a delicious crust.
Fritters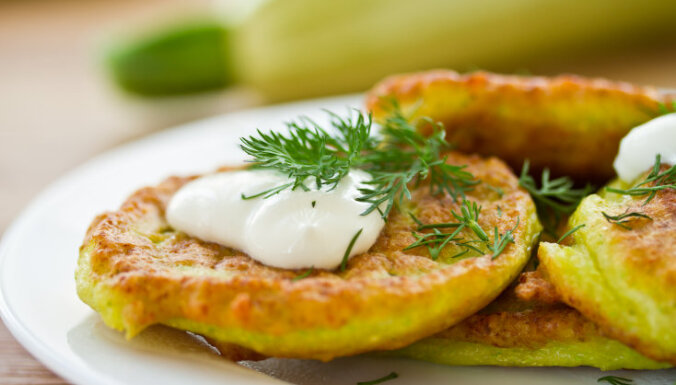 Some people go on a diet for weight loss and are always on the lookout for diet, low-calorie meals. They rarely turn out really good, but oven-baked zucchini pancakes are a pleasant exception. This dish is the perfect combination of limited calories and excellent taste. Below is a recipe with a photo of how to cook vegetable pancakes.
Ingredients:
grated cheese – half a glass;
salt – 0.5 tsp;
green onions – 4 pcs.;
egg;
zucchini – two medium;
spices;
Bulgarian pepper;
breading – 1 cup.
Cooking method:
Set the oven to 200 degrees. Line baking sheets with parchment paper, sprinkle with oil.
Wash food, dry. Grate on a coarse grater. Next, you need to put them in cheesecloth and squeeze out excess juice.
In a bowl with high edges put the pepper, called mass. Beat an egg here, add grated cheese, spices, crackers. Mix ingredients thoroughly.
From the resulting mass, fashion 10-12 pancakes, put on a heated baking sheet.
Such pancakes in a preheated oven will be ready in 10 minutes. Then turn over to the other side and hold for another 8 minutes.
It is recommended to serve the dish with sugar.
boats
There are two options for cutting vegetables for baking in the oven. In the first case, "stumps" are made in which the core is cut out, but the bottom remains. In the second case, you can make boats stuffed with minced meat in the oven. This shape is well suited when the vegetable is thin and it is inconvenient to cut circles. With this type of cut, it is very easy to stuff. Below is a recipe on how to cook stuffed boats.
Ingredients:
spices, sugar salt – to taste;
tomato juice – 1 glass;
onions – 2 heads;
zucchini – 2 medium;
sunflower oil – 3 tbsp. l.;
hard cheese – 100 g;
ground beef – 300 g.
Cooking method:
Cut each vegetable in half.
With a spoon, carefully (so as not to tear), remove the contents of the vegetable, only the walls should remain, thickness – 1 cm.
It is better to cut the onion into cubes, fry in oil.
Add mixed meat to the pan, mix the ingredients well, simmer for 5 minutes.
Then pour in the tomato juice, keep it under the lid for another 10 minutes to boil the liquid.
Add sugar, spices.
Put the minced meat in the cut boats.
Grate the cheese on a coarse grater, sprinkle over the minced meat.
Put the dish in the oven at 200 degrees for 20 minutes.